Floods wreak havoc on crops
Aman yield in Rangpur region suffers setback, Sunamganj haor people face second time paddy loss, Kurigram vegetable fields under water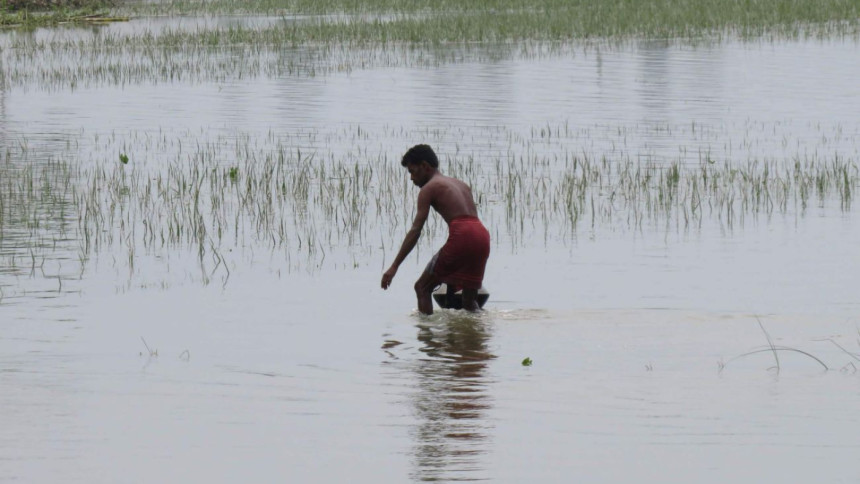 The recent flash floods have caused extensive damage to crops including Aman paddy and vegetables in different districts across the country.
Our Dinajpur Correspondent reports: Rice production may fall by 5.50 lakh tonnes in Rangpur region as 1,69,335 hectares of land under five districts of the region inundated in floodwater.
Besides, 3,397 hectares of vegetable lands remain under floodwater in the region.
Around 5,34,380 hectares of land were brought under Aman cultivation in Kurigram, Lalmonirhat, Gaibandha, Nilphamari and Rangpur this year, according to regional office of the Department of Agriculture Extension (DAE) in Rangpur.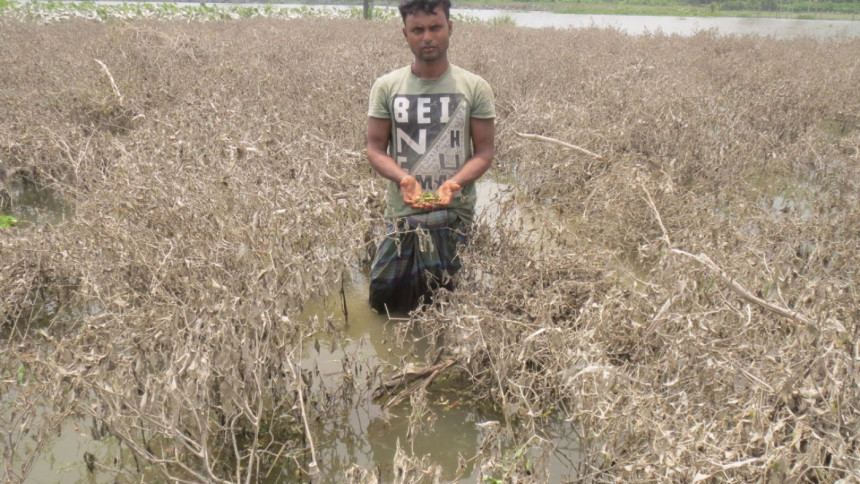 Shamser Ali of Helokhana union of Kurigram Sadar upazila said the flood inundated his Aman paddy on two acres this season.
Habib Mia of Chandipur village under Nageswari upazila said saplings of newly planted Aman paddy on his 2.5 acres of land has started rotting as it remained under floodwater for last six days.
Like them, 22 lakh farmers of Rangpur region are dependent on agriculture for living.
Flood affected farmers of these districts said they would not get expected Aman production this year for the flood. Many of them expressed worry about repayment of loan they took for the cultivation.
Seedbeds on 856 hectares have already been damaged in floodwater, said DAE officials in Rangpur.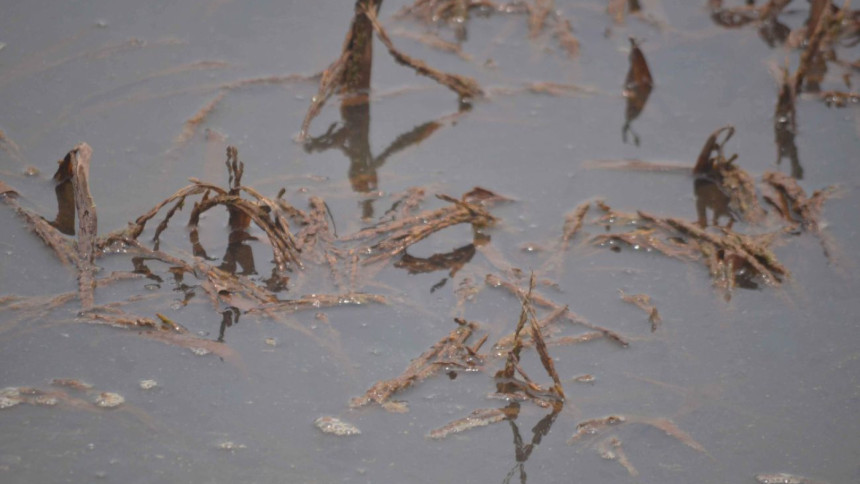 Shah Alam, additional director of DAE in Rangpur, said, "Vast Aman and vegetable lands have gone under floodwater in five districts of Rangpur region. Farmers are being advised to plant alternative crops if the existing crops are damaged."
Our Moulvibazar Correspondent reports fromSunamganj's  Doarabazar:
Inundation of Aman paddy fields has come as a double blow for a large number of farmers in Doarabazar upazila of Sunamganj as they earlier lost Boro crop in April.
"I planted Boro paddy on 15 acres in Baishakh but didn't get any yield due to flood. Now my Aman paddy on nine acres of land is under floodwater," said Munim Mia, 60, a farmer of Badarpur village in Mannargaon union of Doarabazar.
Sunamganj Department of Agriculture Extension sources said they set a target for Aman cultivation on 1,50,670 acres of land but the paddy on 17,299 acres has already been destroyed by floodwater. Seedbeds on 2,470 acres have also been ruined.
Local public representatives say the amount of loss would be much more.
Abu Hena Aziz, chairman of Mannargaon Union Parishad in Doarabazar, said Aman paddy on five thousand acres of land was flooded in the union.
Farmers have appealed for government help to buy saplings and fertilisers to plant Aman seedlings again after the recession of floodwater.
Earlier in April, the collapse of embankments amid heavy rain damaged Boro crops of 154 haors in the district. According to official data, Boro crops on 3,99,181 acres were damaged, affecting 3,25,990 families in the district.
Our Kurigram Correspondent adds: The recent flash flood has caused extensive damage to vegetable fields in the district.
A variety of vegetables were cultivated on 4,097 hectares of land in the district during the summer season (kharip-1) this year but 1,416 hectares of vegetable fields are now under floodwater, said Makbul Hossain, deputy director of the district DAE.
Around 47,261 hectares of croplands have also been inundated, he said.
"I cultivated various vegetables and spices on over one acre of land this summer and expected bumper yield. When I started selling the vegetables, floodwater of the Dharla river entered the fields and damaged the crops," said Nur Islam, 47, of Roypur village in Kathalbari union under Sadar upazila.
Majidul Islam, 32, of Khalishakaloa village said he cultivated aubergine, pumpkin, lal shak and green chilli on 80 decimals of land, spending about Tk 60,000.
"I sold some vegetables for Tk 57,000. If the flood had not damaged the crops, I would have got around Tk 1,80,000 this season," he added.