Families mourn death of dear ones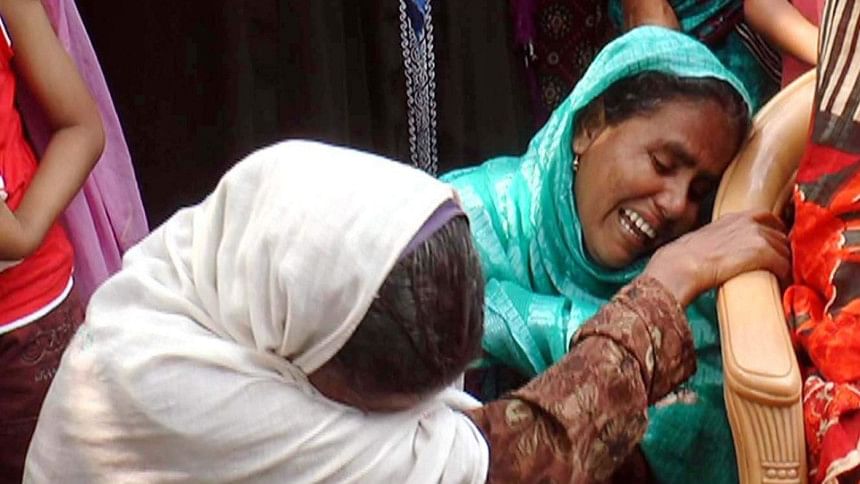 An air of gloom is prevailing at the houses of Nurul Islam, 45, and Abul Hossain, 35, in Kalihati upazila of Tangail.
They are among the five Bangladeshi workers who were killed when a trailer hit a bus on a road in Riyadh of Saudi Arabia on Saturday.
The accident took place around 5:30am (local time) when they were going to work.
Visiting Abul's house at Rampur Mominpur village yesterday morning, this correspondent found his parents wailing over the death of their elder son.
Holding a three-year-old son on the lap, Abul's wife, also a six-month pregnant, burst into tears as she tried to say something about her husband.
"I sent Abul to Saudi Arabia in 2003 after selling a piece of cropland due to poverty. Our poor family was running with the money sent by Abul that he earned through hard labour," said Abul's father Lal Mahmud.
"Abul got married when he returned home in 2008. Now what will happen to his wife, a minor son and another child who is yet to come to the earth?" said a wailing Mahmud.
At the house of Nurul at Bagda Uttorpara village, his wife Asma Begum was seen lying senseless at the yard while relatives were pouring water on her head.
Deceased Nurul's son Asadul, 22, reads in Class XI at a local college and daughter Aklima was married to another expatriate in Saudi Arabia a few years ago, family members said.
The Bangladesh embassy in Riyadh will arrange the return of the bodies in a week after completing formalities, sources said.