Ecnec okays Ctg-Dhaka fuel pipeline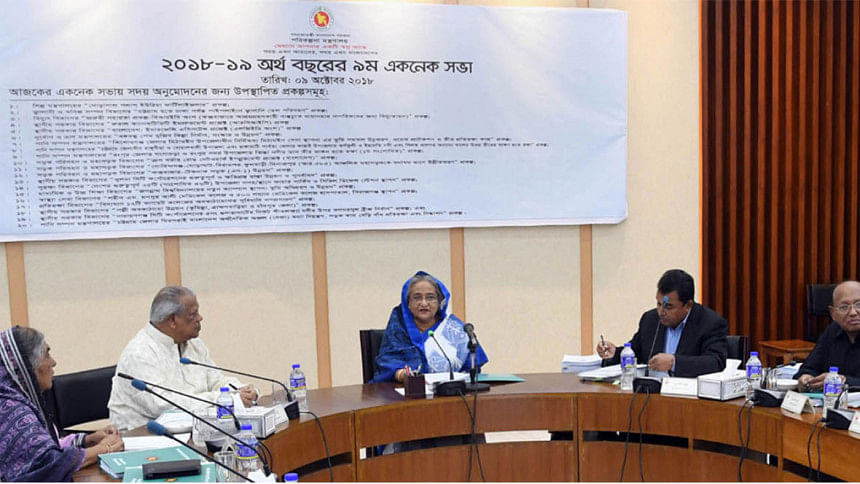 The Executive Committee of the National Economic Council (Ecnec) yesterday approved 20 development projects, involving Tk 32,525 crore, including a Chattogram to Dhaka pipeline project through which fuel oil will be transported through underground pipes.
The approval came from an Ecnec meeting at NEC with Ecnec Chairperson Sheikh Hasina in the chair.
Tk 2,861 crore will be spent for the pipeline project, to be financed by Bangladesh Petroleum Corporation.
Briefing reporters after the meeting, Planning Minister AHM Mustafa Kamal said, "Transporting oil through pipeline is less risky, saves time and cost, and also environment-friendly."
According to the planning ministry proposal, the project is targeted to be completed by 2020. Under it, 238-kilometre pipeline, using 16-inch radius pipes, would be set up from Chattogram to Godnail. From Godnail to Fatullah, a 10-inch radius 8.29km pipeline and from Cumilla to Chandpur, a 6-inch radius 59.23km underground petroleum pipeline would be set up.  It would cross 22 rivers, 46 roads and 11 rail crossings.
The annual demand for petroleum is 58 lakh tonnes, about 90 percent of which is transported through coastal tankers. Some 200 tankers of oil marketing companies are engaged in the work.
TK 10,460CR UREA FACTORY
Ecnec also approved a project for setting up Ghorashal Palash Urea Fertiliser Factory at a cost Tk 10,460 crore, to be completed by 2022.
The new factory, having a capacity of producing 2,800 tonnes of fertiliser per day, would be set up near the existing Urea Fertiliser Factory Limited at Ghorashal and Palash Urea Fertiliser Factory Ltd in Narsingdi.
Ecnec also okayed Rural Connectivity Improvement Project at a cost of Tk 3,667 crore, of which Asian Development Bank (ADB) will finance Tk 2,495 crore.
Ecnec also approved a project for Bangabandhu Sheikh Mujib Killa Construction, Rehabilitation and Development at a cost of Tk 1,957 crore.
After independence, under directives of Bangabandhu, many earthen killas (raised platforms used as shelter during floods) were built in coastal areas, which are known as "Mujib Killa". Under the project, existing killas would be restored and new ones would be constructed.
A Tk 104 crore project was approved to provide electricity for Rohingya refugees. ADB will finance Tk 78.19 crore, with the rest borne by the government.
The ADB has also pledged $200 million grant for Rohingyas.
Another project for building a new campus for Jagannath University in Keraniganj at a cost of Tk 1,920 crore was also approved.