Digital Bangladesh now a reality, says President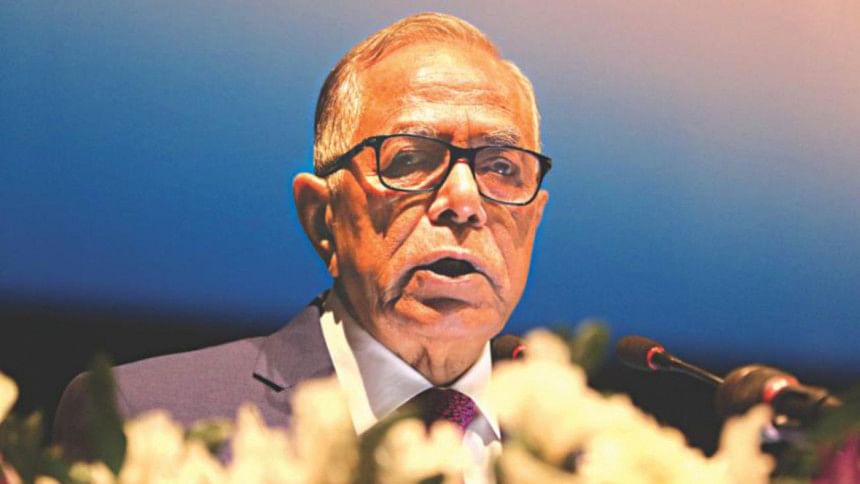 President Abdul Hamid on Monday said Digital Bangladesh is not now a dream but a reality.
"Digital Bangladesh is now not a dream but a reality. People are taking 150 types of services from digital centres around the country. Some 10,500 entrepreneurs provide over 6.4 million services every month while 36 million beneficiaries are availing of e-services," he said.
The President was addressing a discussion on a proposed app titled 'Integrated University Information Management Platform' at Bangabhaban after State Minister for ICT Division Zunaid Ahmed Palak presented a concept paper on it.
The event was arranged with the support of Digital Service Accelerator, a project of the a2i programme under the ICT Division.
President's Press Secretary Joynal Abedin briefed reporters after the meeting.
Abdul Hamid said people are not only getting their desired services from digital centres within a short time but those also play a role in reducing the cost and time.
Mentioning that over 150higher education institutions, includingpublic,private and internationaluniversities, are running their academic activities in the country, he said Integrated University Information Management Platform or Unified University Management Software Application(App)will play the key role in exchange and sharing of the services among their students, teachers and all concerned.
 The President also directed the ICT Division,University Grants Commission (UGC) and university authorities concerned to take effective measures touse the app together.
Apart from ensuring transparency andaccountability in university activities, service seekers will get their services easily through the app, he added.
Palak also presented the techniques of how all the universities of the country will provide their information through the app.
In his presentation, the state minister said all the universities and stakeholders can collect their necessary information easily within a short time.
He also presented a report on the progress of building Digital Bangladesh where activities taken for strengthening digital service from 2009 to 2019 also came up.
Palak also apprised the President of four pillars of Digital Bangladesh -- Standard Development, Internet for All, Digital Government and Information Communicationand Technology (ICT) Industry.
He submitted digital service device specification and digital centre smarak to the President.
Sampad Barua, Secretary to the President, presented the background of the programmeand delivered the welcome speech at the beginning of meeting whileMilitary Secretary to the President Major General S M Shamim-Uz-Zaman concluded the meeting.
Chief Strategist e-Governance of a2i and focal point of Digital Service Accelerator Farhad Zahid Sheikh andSenior Secretary of the ICT DivisionNM Ziaul Alam also made two presentations.