Dhanshiri river disappearing
Siltation and land grabbing to blame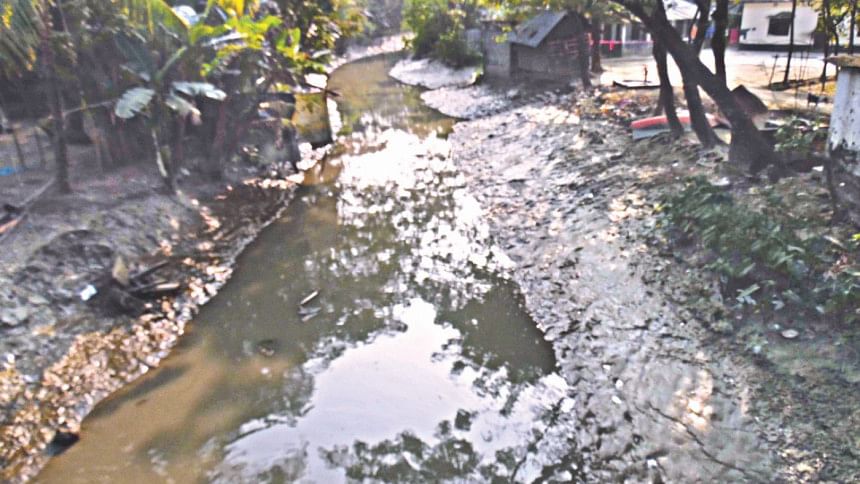 "I shall return to the banks of the Dhanshiri," poet Jibanananda Das famously wrote as the opening words of his patriotic poem 'I shall return'. Yet if Das, who died in 1954, truly were to return to the river that so inspired him, disappointment is inevitable.
Jhalakathi district's Dhanshiri River is broad and majestic no more. From siltation and land grabbing, the river is reduced to a narrow canal, to the detriment not only of poets but in terms of water connectivity, farming and fishing. The river is at risk of disappearing altogether.
"The Dhanshiri follows an 8.6 kilometre course from the Sugandha River in Jhalakathi Sadar upazila to the Jangalia River in Rajapur," explains Shajahan, an elderly businessman from Rajapur Bazar. "It passes through around forty villages."
"Twenty years ago it was a busy waterway," he continues. "All sorts of vessels plied that river. Now only small boats can pass, and only during the monsoon months. In the dry season there isn't enough water for any boat."
"My father used to reach home from Kolkata by steamer on the Dhanshiri," recalls retired high school teacher Abdul Jalil, from Rajapur's Bagri.
He is one of many elderly locals who can recall travelling into Jhalakathi town or to Barisal on launches that ran along the Dhanshiri only thirty years ago.
The river's reduced flow brings no joy to local farmers, either. "We can't farm any crop during the dry season anymore," says one farmer, Ibrahim of Hailakathi village. "There isn't enough water in the Dhanshiri for irrigation."
"I tried to grow watermelons," says another, Abdul Khaleque from Bagri in Rajapur. "I wasn't able to irrigate the land which meant I couldn't achieve a quality crop. I lost money."
Rajapur upazila's agriculture officer Tilok Ghosh notes that vast tracts of land along both sides of the river that even a decade ago produced healthy harvests of winter vegetables and watermelons, no longer do. Overall, hundreds of hectares of farmland are impacted.
Local fisher Ismail Hossain likewise has reason for regret. "Many of us used to earn our livelihoods by fishing the river," he says. "That was twenty years ago. Now the river is dead."
Former local councillor Nazrul Islam Mahraj from Indrapasha says that land grabbing on both sides of the river has been a major cause of the river's decline.
"I've seen how a healthy river can be killed by the thoughtlessness of people grabbing land," says elderly farmer Md Fazle, who in his youth even collected drinking water from the Dhanshiri. "Government departments seem to respond with indifference."
According to Jhalakathi's Water Development Board, Tk 54 lakh was spent to re-excavate the Dhanshiri in the 2010-11 fiscal year; yet the river's condition has not visibly improved.
"I have already spoken with the Water Development Board to re-excavate and protect the river," says Jhalakathi's deputy commissioner, Md Hamidur Rahaman.