DU VC reappointed; CU, BU get new VC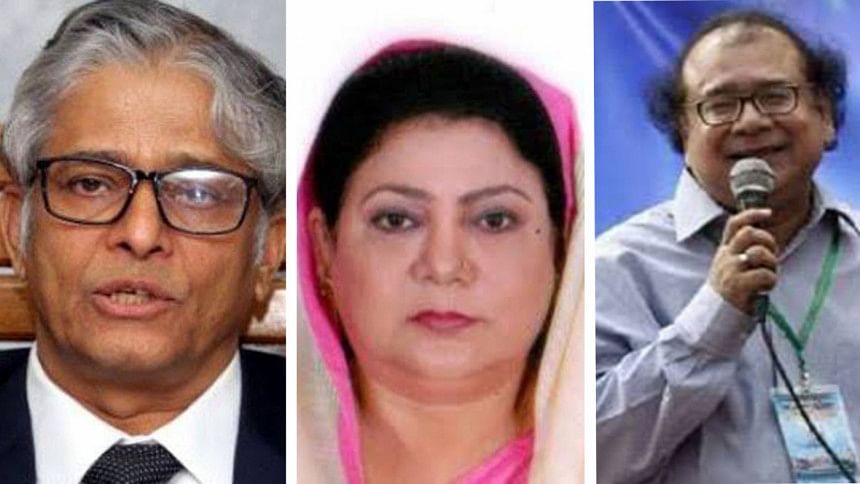 Dhaka University Vice Chancellor Prof Dr Md Akhtaruzzaman has been reappointed while Prof Shireen Akhter and Prof Dr Md Sadequl Arefin (Matin) have been made new VCs of Chittagong University and Barishal University respectively.
Three separate gazette notifications were issued by the education ministry today in these regards. President Md Abdul Hamid, also the chancellor of the universities, appointed them, the notifications said.
BU
Prof Dr Md Sadequl Arefin (Matin), a professor Social Work Department of Rajshahi University, have been appointed for four year, around five months after the tenure of his predecessor Prof Dr SM Imamul Haq was expired.
The vice-chancellor post of BU remained vacant since May 27, halting the academic and administrative activities of the university.
The authorities had to suspend the admission tests for 2019-20 undergraduate session scheduled for October 18-19 as the posts of vice chancellor, treasurer and registrar remain vacant.
CU
Prof Shireen Akhter will be serving as CU VC until a regular VC is appointed through the elected panel of university's senate, or a fresh order is issued in this regard, the gazette notification said.
DU
A special senate session of Dhaka University on July 31, 2019, nominated Prof Md Akhtaruzzaman, Pro-VC (Admin) Dr Muhammad Samad and Prof Maksud Kamal as the members of Vice-Chancellor (VC) panel.
On September 4, 2017, the president appointed Dr Akhtaruzzaman, a professor of Islamic History and Culture department, as acting VC on certain conditions as the tenure of then VC Prof AAMS Arefin Siddique expired.
President Abdul Hamid, also the Chancellor of the university, gave the appointment as per clause 11 (1) of the Dhaka University Ordinance 1973, said a notification posted on the website of the Secondary and Higher Education Division of the Education Ministry.
Before that, Dr Akhtaruzzaman was holding the post of Pro-vice Chancellor of the university.
The orders will be effective immediately, the notifications said.