Number of dengue patients decreasing: Health minister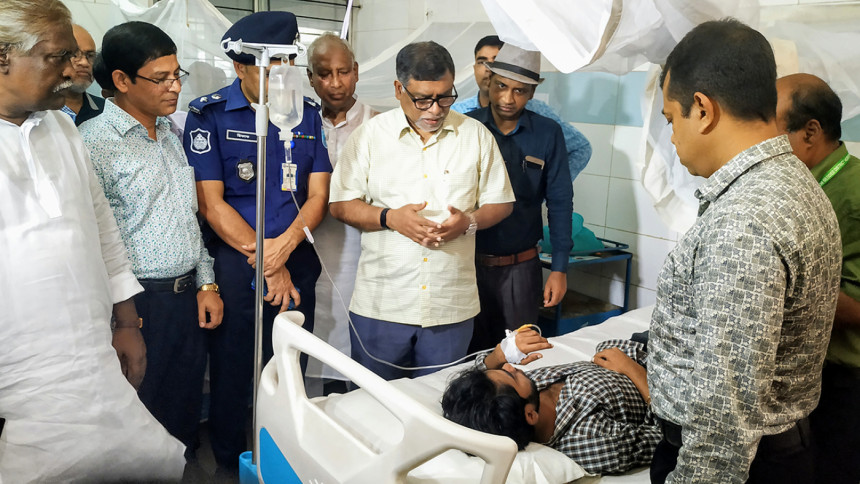 Health Minister Zahid Maleque today claimed that the number of patients being infected with dengue fever is coming down across the country.
The minister said this while visiting dengue patients at Manikganj District Hospital this noon, reports our local correspondent.
"A social movement has begun across the country to build awareness against dengue fever, and hence the number of patients being infected with the disease is decreasing and overall situation of the outbreak has also improved," the minister said.
However, the data of Directorate General of Health Service (DGHS) suggest that there is an upward trend in the number of people getting admitted to hospitals after being diagnosed with the mosquito-borne disease every day.
So far, 2,065 dengue patients have been admitted to hospitals across the country in the last 24 hours, from 8:00am yesterday till 8:00am this morning.
The figures for the same duration were 1,870 yesterday and 1,649 on the day before.
Talking to journalists after visiting the patients at the hospital today, Minister Zahid Maleque said there is no crisis of dengue detection kits in the country.
"Already around 4 lakh kits have been brought into the country and those were distributed in every district," he said.
"More people got infected with dengue fever in Dhaka. These patients might spread the disease throughout the country," Zahid Maleque said.
The minister called upon the deputy commissioners and civil surgeons of all the districts to take proper steps for controlling the spread of the disease.
He also expressed hope that the disease will soon be eliminated from the country.
The minister later inaugurated a crash programme to eliminate Aedes mosquitoes by spreading pesticides on the hospital premises.
Meanwhile, the number of people who died of dengue fever this year has risen to 60 today.
However, the Directorate General of Health Services (DGHS) claims the number of deaths is 18.
A record 24,804 people have so far been infected with the mosquito-borne disease till yesterday.
Last year, the total was 10,148, according to the DGHS.
The number of dengue patients has exceeded the 10,000 mark only twice in the country's history.