Cyclone 'Mora' may cross Ctg, Cox's Bazar by Tuesday morning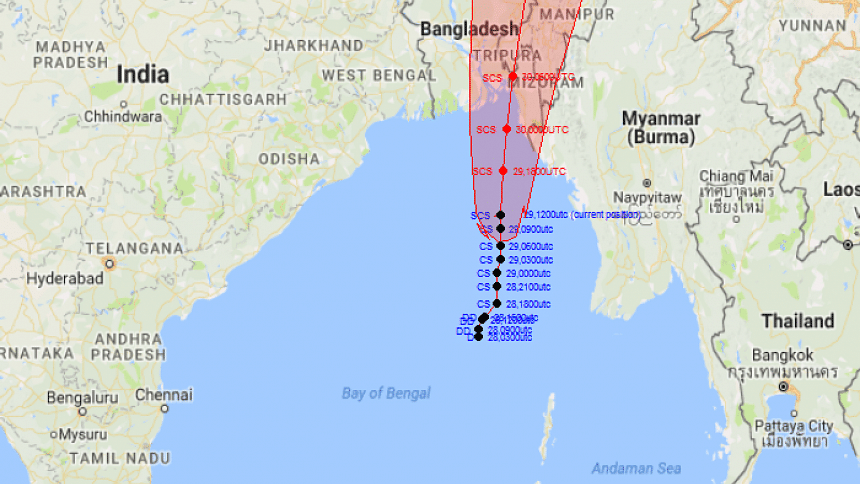 The cyclone 'Mora' might make landfall on Bangladesh's Chittagong and Cox's Bazar coasts by tomorrow morning, according to a special bulletin of Met office.
As the severe cyclone is intensifying over North Bay and adjoining East-Central Bay and heading towards the country's coastal areas, Bangladesh Meteorological Department has issued "Great Danger Signal" no. 10 at Chittagong and Cox's Bazar maritime ports and eight at Mongla and Payera ports.
The severe cyclonic storm (ecp 990 hpa) over north bay and adjoining east central bay moved slightly northwards and lies over the same area (near lat 19.0°n and long 91.3°e) and was centred at 9:00 pm today about 360 kms south of Chittagong port, 280 kms south of Cox's Bazar port, 430 kms south-southeast of Mongla port and 350 kms south-southeast of Payra port. according to the bulletin.
"It is likely to intensify further, move in a northerly direction and may cross Chittagong - Cox's Bazar coast by tomorrow morning," it said.
Under the peripheral influence of severe cyclonic storm 'Mora', gusty or squally wind with rain or thunder showers is likely to continue over north bay, the coastal districts and maritime ports of Bangladesh.
Maximum sustained wind speed within 64 kms of the cyclone centre is about 89 kph rising to 117 kph in gusts or squalls. Sea will remain high near the system, the Met office said.