Cycle race against child marriage
Thakurgaon schoolgirls join programme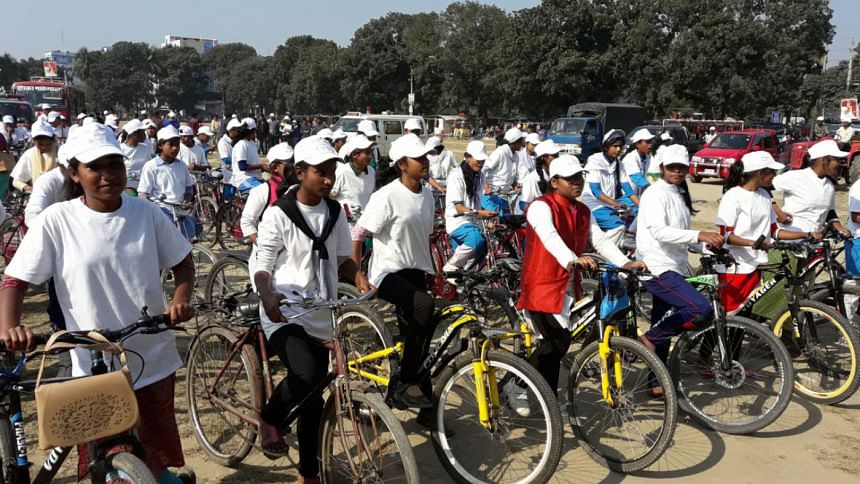 Five groups of schoolgirls took part in cycling in different areas of the district yesterday as part of an awareness campaign against social menaces like child marriage, dowry, stalking, drug abuse and militancy.
Simultaneously, around a hundred youths participated in a mini-marathon in the district town for the same purpose.
Seventy schoolgirls started cycling towards Baliadangi upazila from Thakurgaon town's central Shaheed Minar premises, following inauguration by Additional Deputy Inspector General of Police of Rangpur Range Chowdhury Manjurul Kabir.
From the same spot, around 100 youths started a race for Lokayan Museum in Sadar upazila while four other groups (each comprising 70 schoolgirls) started cycling from Baliadangi to Haripur, Haripur to Ranishankoil, Ranishankoil to Pirganj and Pirganj to Thakurgaon Sadar.
Non-governmental organisation Eco Social Development Organisation (ESDO) arranged the programme in association with Palli Karma-Shahayak Foundation (PKSF) and Community Policing, Thakurgaon.
"Along with awareness campaigns against social evils, we organise traditional games, wall magazine competitions, cultural events and indoor games in different high schools of five upazilas of the district to develop creativity of the young learners," ESDO Executive Director Mohammad Shaheed Uz Zaman earlier said at a discussion at the same venue. 
Superintendent of Police Farhad Ahmed, Commanding Officer of BGB 30 Battalion Lt Col Tusher Bin Yunus, and Principal of Eco College Selima Akhter, addressed the programme.
Local lawmaker Ramesh Chandra Sen as chief guest distributed prizes among the participants of the cycling and mini-marathon at the concluding session of the programme on the premises of Oporajeyo '71 in the afternoon.