Womenfolk need to achieve power with own ability: PM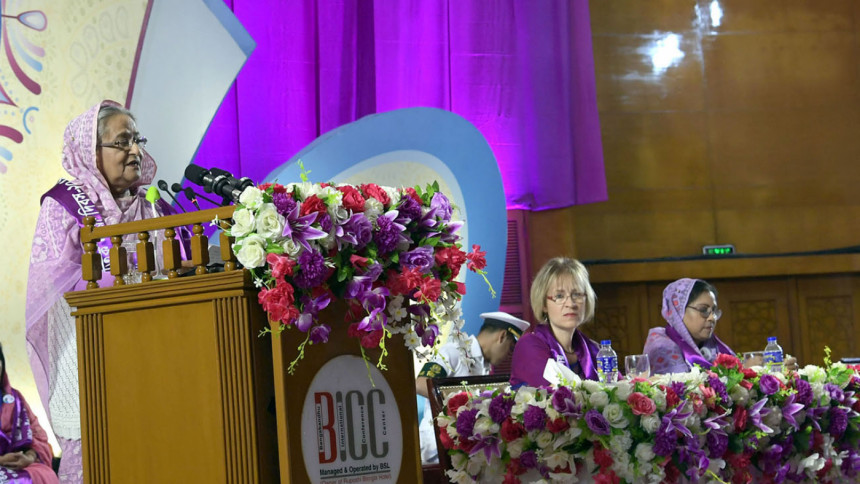 Prime Minister Sheikh Hasina today called upon the country's womenfolk to achieve power with their own ability as the government has ensured their equal opportunities in various sectors to empower them.
"Though, we have given them (women local representatives) power, but they cannot apply it. I would like to tell them, who are now in charges (of local government bodies), they need to achieve the power with their own capabilities as none will hand over it to them," she said.
Referring to the government initiatives to empower women in politics, she said her government has made reserved one-third seats for women in the local body elections such as unions, upazilas and municipalities alongside a seat for woman vice-chairman in upazilas as they can perform specific responsibility.
The premier was speaking at a function as the chief guest arranged by Ministry of Women and Children Affairs on the occasion of International Women's Day, 2019 at Bangabandhu International Conference centre in Dhaka.
"Women have been playing significant role in politics, judiciary, armed forces, police, administration, education, trade and commerce, sports and games, and adventures," Sheikh Hasina said, adding that women in many cases outnumbered men particularly in education and sports.
In this context, the premier recalled the contribution of Father of the Nation Bangabandhu Sheikh Mujibur Rahman, saying that Bangabandhu started the process of uplifting women by establishing their equal rights with men in all spheres of the state and public life as constitutional obligation.
The women had no scope to enter judiciary in line with the Pakistani laws but Bangabandhu paved the way for them in joining judiciary after annulling the Pakistani laws, she mentioned.
Sheikh Hasina also remembered Bangamata Begum Sheikh Fazilatun Nesa Mujib's contribution to this end, saying "She (Bangamata) worked for the country along with Bangabandhu all the time by giving him inspiration, courage and suggestions."
Chairman of the Parliamentary Standing Committee on the Ministry of Women and Children Affairs Meher Afroz Chumki chaired the meeting, while UN Resident Coordinator and UNDP Representative in Bangladesh Mia Seppo was present at the function as the special guest.
Women and Children Affairs Secretary Kamrun Nahar delivered the welcome address.
This year's theme of the day is – 'Think Equal, Build Smart, Innovate for Change'. At the function, a documentary on the government's development activities for the women was screened.