2 'yaba traders' killed in Cox's Bazar 'gunfight'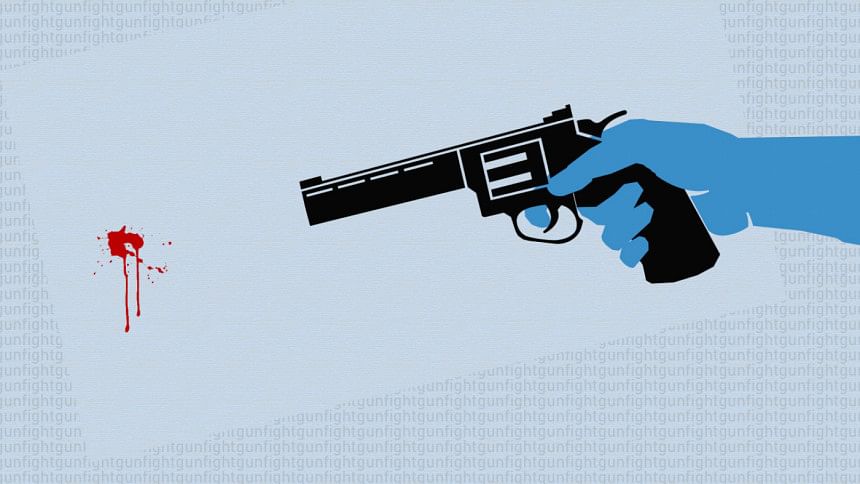 Two suspected yaba traders were killed in a "gunfight" with police in Teknaf upazila of Cox's Bazar early yesterday.
Both the deceased Abdur Rashid alias Dhaliya, 47, and Abul Kalam, 35, were named in the list of yaba traders prepared by the home ministry, police sources said.
The incident took place in Khurer Mukh area around 1:30am, when a team of police carried out a drive for recovering illegal firearms, said Pradip Kumar Das, officer-in-charge of Teknaf Police Station.
Sensing the presence of police, the drug traders opened fire on police and a "gunfight" ensued when the law enforcers fired back in retaliation, Pradip added.
Later, police recovered the two bullet-hit bodies from the spot, along with five firearms and 22,000 yaba pills, he said.
The bodies were sent to Cox's Bazar District Sadar Hospital morgue for autopsies.
Kalam was accused in 10 cases, including for drug dealing and human trafficking, while Rashid had 6 cases filed against him under the Narcotics Control Act. All the cases were filed with Teknaf Police Station, the OC added.
According to police sources, Sub-Inspector Borhan Uddin, Assistant Sub-inspector Farhad and Constable Hridoy of the police station sustained injuries in the "gunfight" and were receiving treatment at Teknaf upazila health complex.
Police filed a case in this connection.
With the two, a total of 277 suspected drug traders have so far been killed since the country-wide anti-narcotics drive began on May 4, last year. Most of them were killed in so-called shootouts, involving members of police and Rapid Action Battalion.
However, the number of death is even higher according to rights body Ain o Salish Kendra (ASK). The legal aid organisation, at a press briefing yesterday, said 292 people were killed across the country from May 4 to December 31, last year in the drives conducted by the law enforcers.