CNG drivers cripple highways protesting ban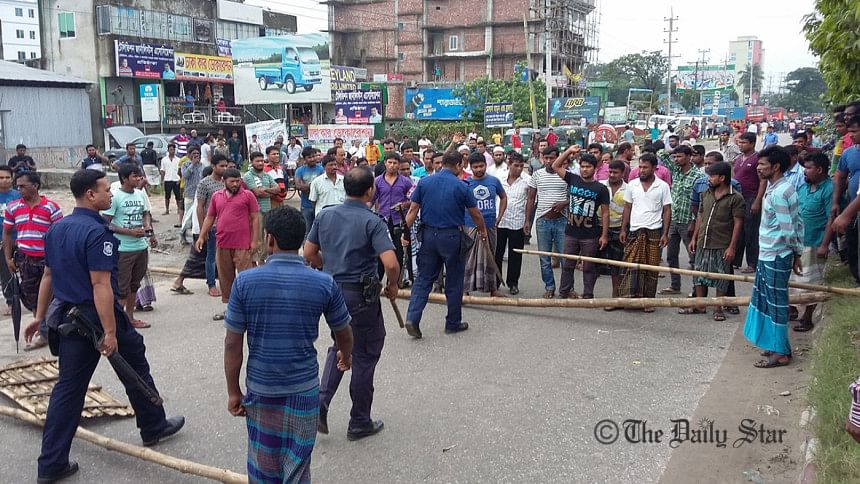 - Blockade on Dhaka-Aricha highway
- Indefinite strike in Sylhet
- Blockade on Dhaka-Ctg road
- Blockade on Dhaka-Tangail road
CNG-run auto-rickshaw drivers continue their protests today against the highway ban placed by government from the first of this month.
On the second day of their agitation, road routes to Dhaka were cut off from the country as protests took place in several other districts with some turning into violent confrontation with police.
The government took the decision last month in view of the increasing death on highways in road crashes.
---
Dhaka-Chittagong highway: Protestors blocked several parts of the major highway in Narayanganj and Chittagong, our local correspondents report quoting police and locals.
In Narayanganj, the blockade was enforced for about half an hour starting from 11:15am. Police brought the situation under control, said Nazrul Islam, officer-in-charge of Bandar Police Station.
In Chittagong, CNG and auto-rickshaw drivers and owners blocked the Dhaka-Chittagong highway at Faujdarhat around 12:50pm. Md Shahidullah, officer-in-charge of Baro Aulia Police Station, said police were trying to disperse them. 
---
Dhaka-Tangail highway: Police foiled separate attempts of demonstration in Tangail Sadar and dispersed blockaders from the highway at Elenga under Kalihati upazila.
Protesters threatened indefinite strike throughout Tangail. 
---
Dhaka-Aricha highway: More than 100 CNG-driven auto-rickshaw drivers and owners blockaded the Dhaka-Aricha highway near Savar bus stand around 11:00am, reports our local correspondent.
Police charged batons triggering a cat-and-mouse chase between the two groups that halted vehicle movement on the important highway for nearly an hour.
---
Sylhet: CNG run three-wheeler and auto-rickshaw labour union called indefinite strike in Sylhet from today protesting the ban, reports our Moulvibazar correspondent.
Mohammad Jakaria, president of Sylhet the union's district unit, threatened to continue the strike unless the government withdraws the ban. "It is our main source of income." 
---