Climate Change Fallout: 13.4cr people to be hit hard
WB report depicts grim picture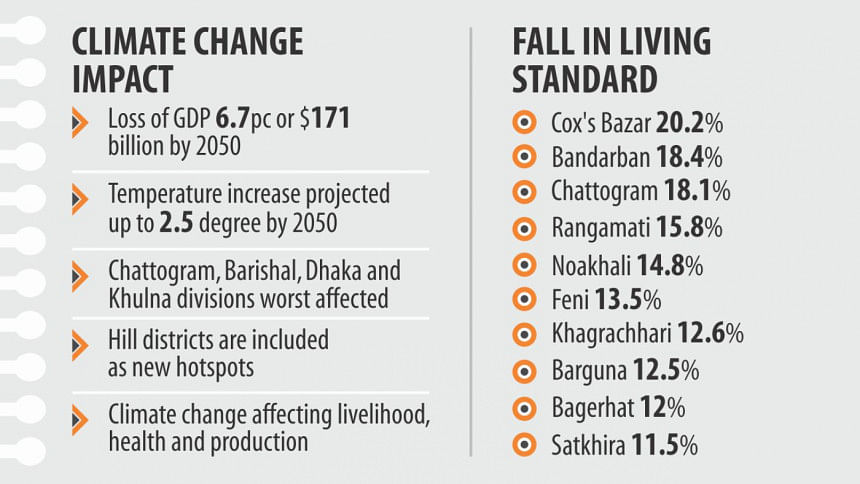 More than three-quarters or 13.4 crore of around 16.5 crore population of Bangladesh are at the risk of declining living standards as a result of rising temperature and erratic rainfall due to climate change, the World Bank has said. 
Rising temperature could affect living standards in diverse ways. Top among them are fall in agricultural and labour productivity and rise in spread of vector-borne and other infectious diseases resulting in lost productivity and income, said a WB report published yesterday.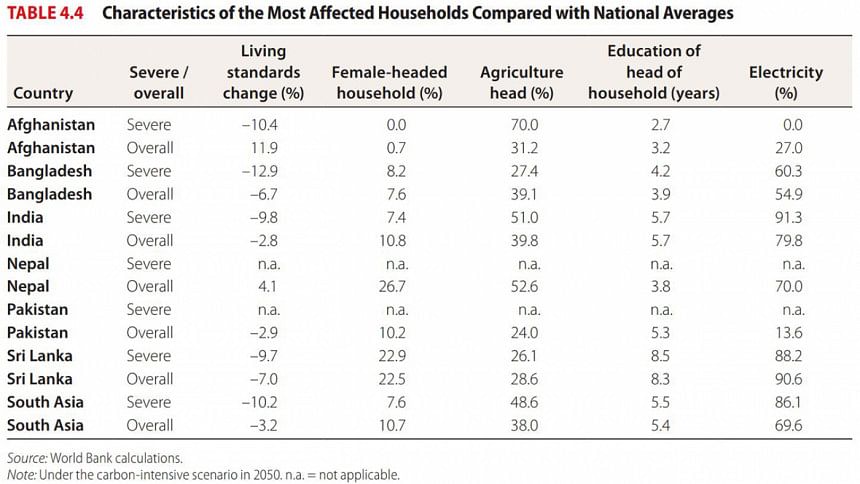 Also, it can force people out of their traditional professions and cause migration.
World Bank Hotspot Bangladesh Rising Temperature GDP by Daily Star on Scribd
The decline in living standards as a result of changes in average weather could cost a loss of 6.7 percent or $171 billion of Bangladesh's Gross Domestic Product by 2050 unless actions are taken to reduce emissions and global annual average temperature increase, the report warned.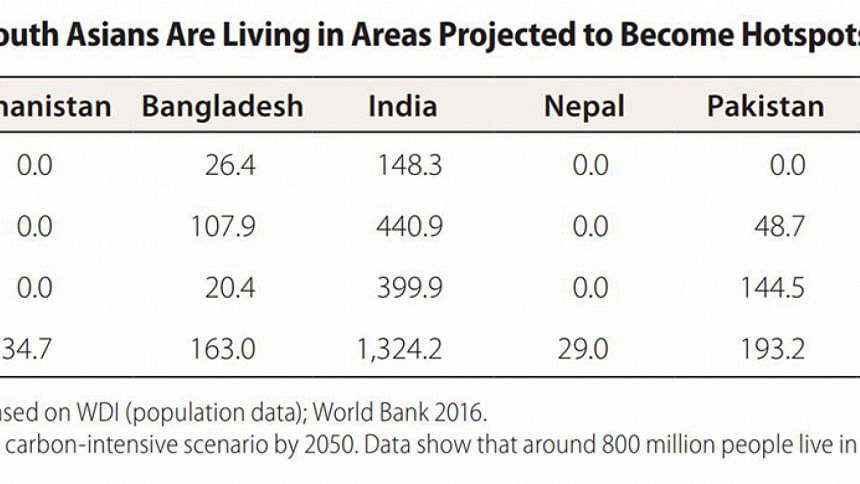 The cost of inaction will be highest for the severely affected regions, amounting to $59 billion or 14.4 percent losses in GDP by 2050, said Muthukumara Mani, lead economist of the World Bank, presenting the findings of the study.
The report titled "South Asia's Hotspots: The Impact of Temperature and Precipitation Changes on Living Standards" was launched at the Pan Pacific Sonargaon Hotel in Dhaka. Finance Minister AMA Muhith was present on the occasion.
In the last 60 years, South Asia's average temperatures have increased and will continue rising, affecting agriculture, health and productivity, the report said.  
Bangladesh's average annual temperatures are expected to rise by 1.0°C to 1.5°C by 2050 even if preventive measures are taken along the lines of those recommended by the Paris climate change agreement of 2015.
If no measures are taken, then the country's average temperatures are predicted to increase by 1.0°C to 2.5°C, said the report.
The warning comes when concerns over sea level rise and the risk of submergence of low-lying regions and effect on the Sundarbans remain high.
The WB said increasing average temperatures and changes in seasonal rain patterns have already altered farming seasons in Bangladesh, India and Pakistan and have resulted in serious health and productivity damage.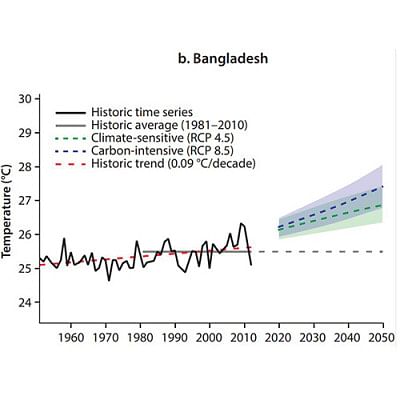 "The current analysis points to additional non-coastal areas that will be adversely affected by climate change," said the WB, which found that living standards of nearly half of South Asia's population was at the risk of decline.
Mani, the WB lead economist, said these weather changes would result in lower per capita consumption levels that could further increase poverty and inequality in South Asia, one of the poorest regions in the world.
In Bangladesh, hill tracts will be most affected regions by 2050 for deforestation, hill cutting which has resulted in major landslides, destruction of property and damage to water resources.
"In Bangladesh, Chittagong division emerges as the most vulnerable to changes in average temperature and precipitation followed by Barishal and Dhaka divisions," said the report.
Khulna is the fourth most vulnerable division followed by Rajshahi and Rangpur.
However, Sylhet division is unlikely to suffer decline in living standards, according to the report.
Seven of the top 10 districts where changes in average temperature and rain will have negative effect on living standards, are in the Chittagong division, officially named Chattogram recently.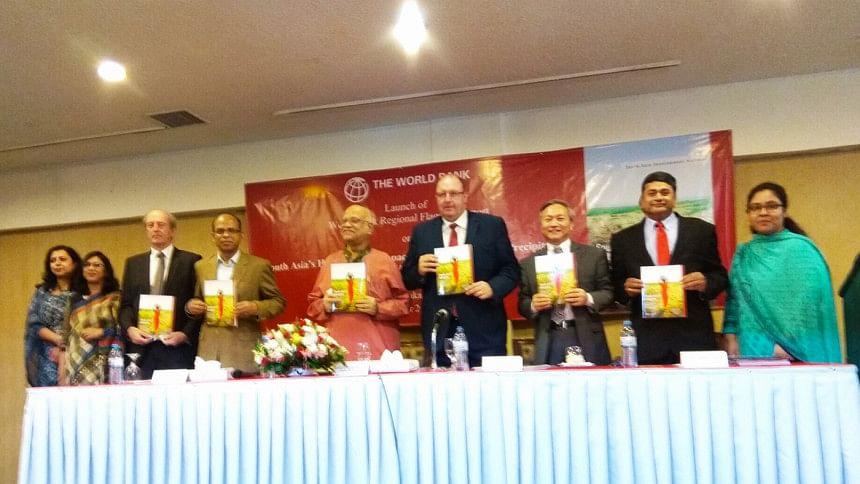 And Cox's Bazar, the country's biggest tourism destination and now the largest shelter for Rohingya people, is predicted to face the largest negative impact.
"Cox's Bazar is one the hotspots for Bangladesh. Living standard of people of Cox's Bazar will decline by 20 percent," said WB Vice President for South Asia Region Hartwig Schafer at the launch of the report.
Chittagong, a major economic hub, emerges as the third most vulnerable cities in Bangladesh. The second largest city after Dhaka attracts foreign investments in apparels, ship breaking and oil refinery.
"Going forward, climate vulnerability therefore has huge economic implications for this growing city," said the report suggesting increasing opportunities in non-agricultural sector to reduce the impact.
The WB said climate change is an acute threat to development and efforts to end poverty. It will even reverse the gains in poverty reduction that have been achieved unless actions are taken.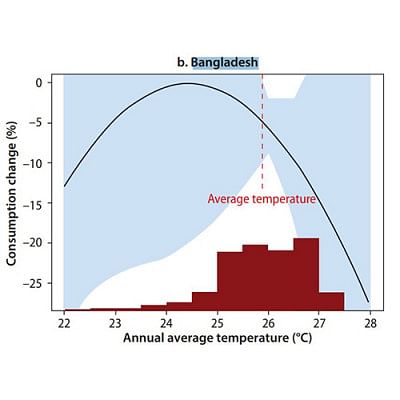 "We cannot address poverty without addressing climate change," said Hartwig.
WB Country Director for Bangladesh, Nepal and Bhutan Qimiao Fan said addressing climate change was a top development policy.
Finance Minister Muhith did not comment on the impact of climate change but said Bangladesh was on course to become a developing country formally in 2024.
And the country faces some new strains as it becomes a lower-middle income country, he said.  
"Cheap money is not so easily available now. We have started the process even before we were asked by the World Bank and the Asian Development Bank to go into arena of borrowing on hard terms," he said.
Muhith said poverty had been reduced drastically but the country had not been that successful in reducing inequality.