CU confers D. Litt degree on Pranab Mukherjee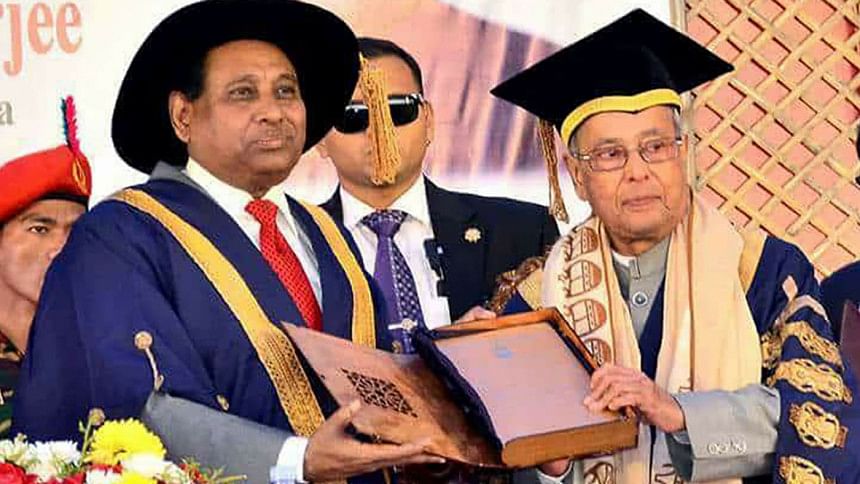 Chittagong University today conferred an honourary Doctor of Letters (D. Litt) degree on the visiting former Indian President Pranab Mukherjee at the university campus.
Vice-Chancellor of the Chittagong University Prof Iftekhar Uddin Chowdhury conferred the degree on Pranab through a special convocation ceremony, reports our CU correspondent.
CU Pro-VC Prof Shirin Akhtar, acting registrar Prof Dr Kamrul Huda among others attended the programme.
Speaking on the occasion, Pranab Mukherjee emphasised on research based higher education and said that he expects Chittagong University would eventually become an institution of excellence in higher education, attracting talented people from across the world, and would produce scientists and economists who would contribute to the global development.
The former Indian president also thanked the CU authorities for conferring the D. Litt degree on him.
Earlier, the former Indian president reached Chittagong this morning.
After reaching the CU campus, he placed wreath at the Bangabandhu Chattar of the university and entered the field of Shaheed Abdur Rob Hall where students of CU's drama and music departments received him singing inauguration song.
He participated at a luncheon at the vice-chancellor's Bangalow after the programme.
Iqbal Bahar, commissioner of Chittagong Metropolitan Police, and other higher officials received Pranab after he reached Shah Amanat International Airport at 11:00am.
Meanwhile, Chittagong City Corporation (CCC) will honour Pranab Mukherjee, a great friend of Bangladesh, with 'city key' at a function this evening, UNB adds.
CCC Mayor AJM Nasir Uddin will hand over the key to the former Indian president.
Pranab, who served as the 13th president of India and is now enjoying his retirement by reading books and writing his diary, will meet President Abdul Hamid tomorrow evening, reports UNB.
The former Indian President, a family friend of Bangabandhu Sheikh Mujibur Rahman, arrived in Dhaka on Sunday on a private visit.
He will leave for New Delhi by a Jet Airways flight at 10:20am on Thursday.