Blasts near Sylhet militant den: Death toll now 6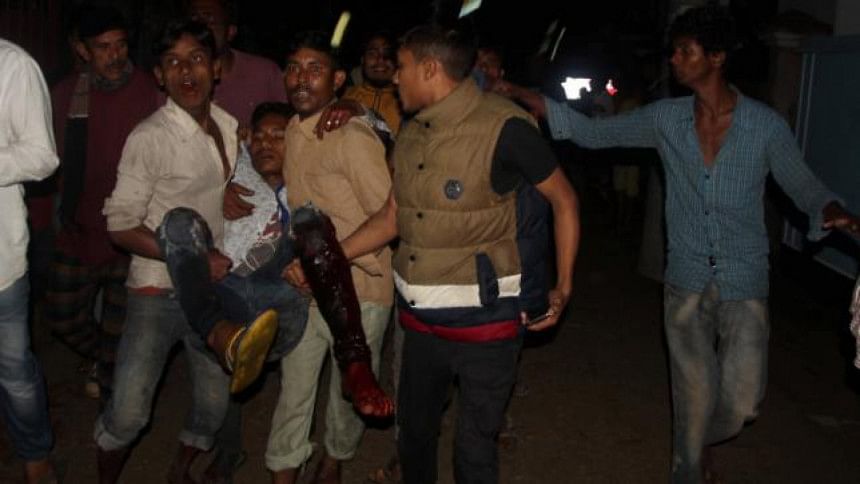 Another person succumbed to his injuries early today, raising the death toll from the two powerful bomb blasts near a militant den in Sylhet to six.

Jannatul Fahim, 18, who was injured in the first blast on Sylhet-Fenchuganj road in Gutartik, died at MAG Osmani Medical College Hospital around 1:00am, our local correspondent reports quoting hospital morgue sources.

READ more: Blasts kill 5 amid raid

The victim's cousin Shamim Ahmed said Fahim, an HSC examinee from Kuchai Isram Ali High School and College, might have gone to the spot to see the joint forces operation at the suspected militant den.

Fahim was also the BCL upazila unit deputy secretary of environment and forest, and His father Kamal Ahmed is the panel chairman in Kuchia union, the correspondent said.

Meanwhile, another victim, who died in the first blast, has been identified as Kadim Shah, 35, son of Ismail hailing from Kallyanpur area of Chhatak upazila of Sunamganj, the morgue sources said.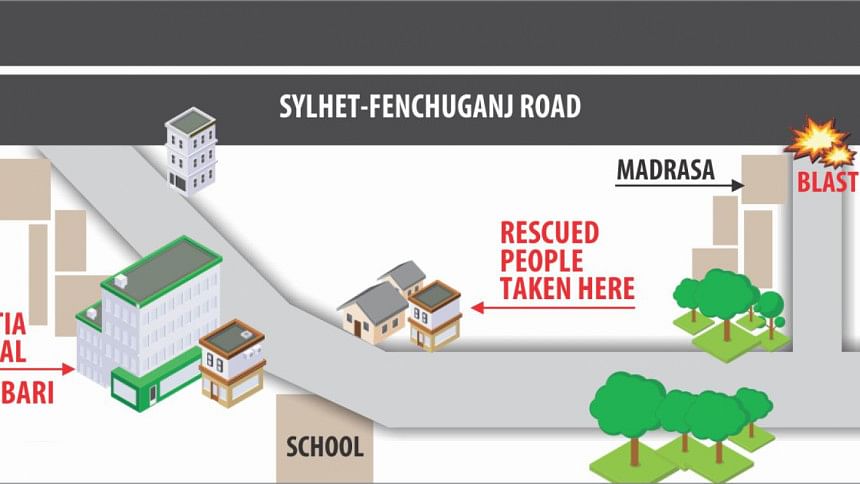 Two powerful bombs went off at separate places near the militant den in Shibbari area, killing five people including two policemen, and injuring 40 others, even as joint forces were raiding the hideout for a second straight day yesterday.

The first bomb went off all of a sudden in the area around 7:00pm, minutes after the briefing by the Brig Gen Ahsan. The site of this attack is about 400 metres north of Atia Mahal, owned by Ustar Ali, a businessman.


Two people -- Wahidul Islam Opu, a college student in South Surma Upazila, and an unidentified man -- died in this attack, police and hospital sources said last night.

The second blast came around an hour later, this time close to Atia Mahal, killing three people, including two police officials, and injuring many, police said.

The dead are Chowdhury Abu Mohammad Kaiser, an inspector of court police in Sylhet, Monirul Islam, inspector (investigation) of Jalalabad Police Station, and Shahidul Islam of Dariapara in Sylhet city, police said.

The injured, including several law enforcers, were rushed to Sylhet MAG Osmani Medical College Hospital.
43 injured being treated at Osmani hospital
Meanwhile, a total of 28 people are being treated and 15 were released previously at the Sylhet MAG Osmani Medical College Hospital after the operation started, Brig General Dr AK Mahbubul Hoque, director of the hospital, told journalists at a press briefing.

The patients are out of danger, he said.

A woman, Josna Rani Das, who was rescued from the building today, had been brought to the hospital he added.

Josna is experiencing mental trauma as she was trapped inside the building during the drive, he said.