BCL men confine BRU VC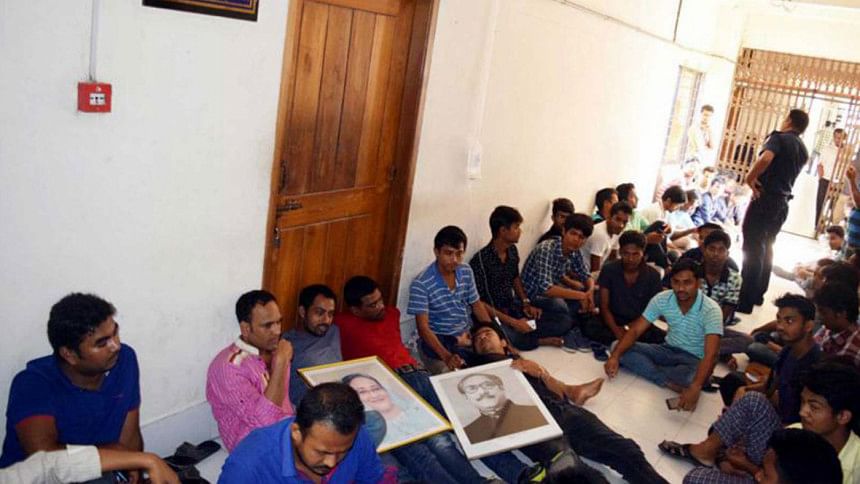 A section of Bangladesh Chhatra league (BCL) men at Begum Rokeya University (BRU) in Rangpur today confined the vice chancellor at his office demanding job at the university.
The BCL men besieged the VC's office confining him since 11:00am as the latter rejected their demand for getting recruited at the university, our Dinajpur correspondent reports.
The VC was still confined at his office on the campus till last reported at 8:00pm.
The agitating BCL men alleged that Vice-Chancellor Dr Nur-Un Nabi had assured them of jobs at the university. But he failed to keep his assurance.
Contacted, the VC denied the allegation saying that he cannot offer jobs to anyone violating the employment rules of University Grants Commission (UGC).
He also said he was confined at his office by the BCL men.
ABM Zahidul Islam, officer-in-charge of Rangpur Sadar Police Station, said additional police forces were deployed in and around the campus to avoid any untoward situation.
The agitators, however, threatened to wage greater agitation on the campus if their demands are not met.
The BCL men, led by former vice-president of its BRU unit Hadiuzzaman Hadi and Shajid Mukhtar Ilahi Hall unit president Imtiaz Basunia, brought out a procession on the campus earlier in the day.
Meanwhile, BCL's BRU unit President Tusher Kibria said his followers were not with the agitators.
The terms of Nur-Un Nabi as the VC will end on May 5. He joined the university as the VC in 2013.