Bangladeshi paralysed in work accident gets $600,000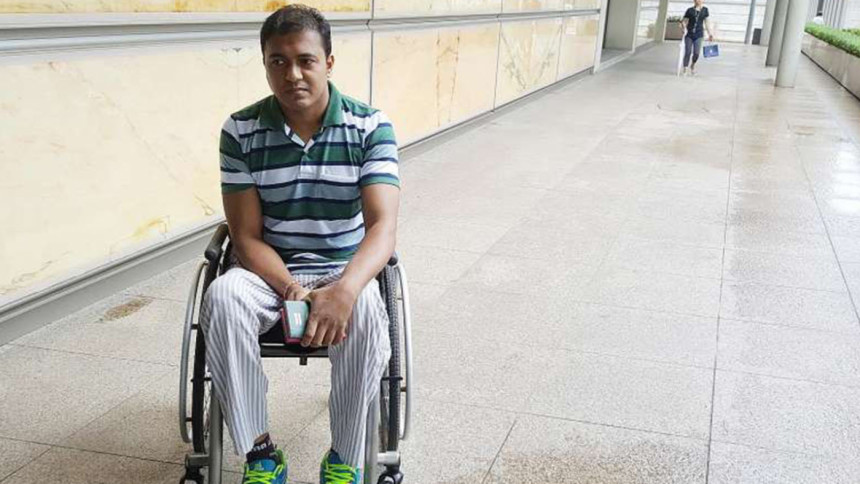 A Bangladeshi construction worker paralysed after a worksite accident was awarded about $600,000 in damages and costs by the High Court yesterday.
Tarun Kumar Saha, 32, suffered spinal injuries after he was knocked down from behind by a reversing forklift on Feb 3, 2013.
Deployed to do general renovation works at the Grand Hyatt Hotel, he was dealing with the driver of a crane, which was running, so he could not hear the vehicle reversing towards him.
Thrown a metre by the impact, he was taken to Tan Tock Seng Hospital, where he had surgery to stabilise his fractured spine and right ankle.
Tarun also received psychiatric treatment at the hospital, underwent rehabilitation and was discharged into a private nursing home some two months later.
Through his lawyer, Pritam Singh Gill, he sued his employer, sub- contractor Choon Construction, and the main site contractor, Hup Yew Sen Construction, for negligence.
The defendants, whose lawyers were from United Legal Alliance, at first argued that Tarun was partly, if not wholly, to blame. But in October last year, both contractors accepted 85 per cent liability, leaving the sums payable to be assessed.
After a two-day assessment hearing, which ended yesterday, Judicial Commissioner Valerie Thean ordered that Tarun be paid $323,700 for pain, suffering and loss of future earnings and $225,721 to meet medical expenses, contingencies and costs of appliances and materials for continued care.
The judge awarded another $50,000 in legal costs.
For Tarun, the compensation was small comfort.
"Got money, but cannot do anything," he told The Straits Times.
He came to Singapore in 2010, and moved up from construction worker to become an assistant to the site supervisor.
He was an active sportsman, and had plans to marry, but his fiancee left him when he became disabled.
Tarun said when doctors first told him he was permanently paralysed, he was devastated. He thought of suicide.
An only son and the sole breadwinner, he now lives with his parents, aged 75 and 70, in their village home some 300km from Dhaka.
He said: "My parents became depressed when they saw me in a wheelchair. I was still depressed but kept it to myself. I pretended to give them confidence as I knew if I showed them that I was sad, they could go into deep depression and become sick."
He needs a male nurse, who goes to the house daily to attend to him.
He left for Dhaka last night. "My village is not like Singapore. Not much a handicap can do or go to."