Rampal project construction work to continue: Tawfiq-e-Elahi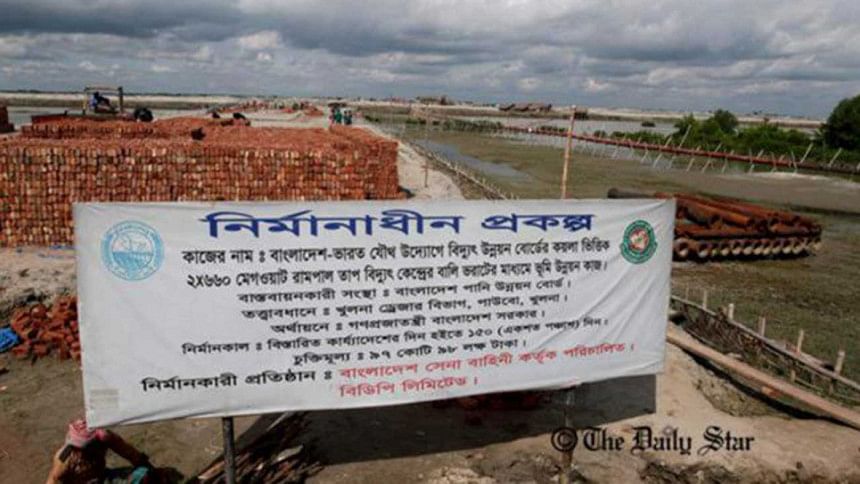 The government will continue construction work of the much-talked about Rampal power plant project near the Sundarbans in light with the Unesco's latest report, Prime Minister's Energy Affairs Adviser Tawfiq-e-Elahi Chowdhury said today.
Read more: Rampal Power Plant: Unesco decisions, govt version differ
"The Unesco in its latest report said the construction work of the plant will continue. We will take mitigation measures based on the environmental assessment," he told reporters.
His remarks came this afternoon, a day into Unesco made it clear that no large-scale industrial or infrastructural development should be allowed to proceed in the vicinity of the Sundarbans before Bangladesh carried out a Strategic Environmental Assessment (SEA) for its south-west region.
He was addressing a press briefing over the Rampal power plant project at Bidyut Bhaban in Dhaka.
In a report uploaded yesterday to its website on decisions made at the 41st session of its World Heritage Committee earlier this month, it asked for submission of the SEA report to the World Heritage Centre (WHC) as soon as it was available.
Unesco's decision was contrary to what Bangladesh's delegation had claimed after returning from the session held in Poland.
On July 9, Tawfiq-e-Elahi said the government would continue building the Rampal power plant and do an SEA alongside as per Unesco's request.
But in reality, the UN organisation has given Bangladesh until December 2018 to implement recommendations made by a UN monitoring mission for protecting the Sundarbans before it could start building the power plant.