Election won't be acceptable excluding Khaleda: BNP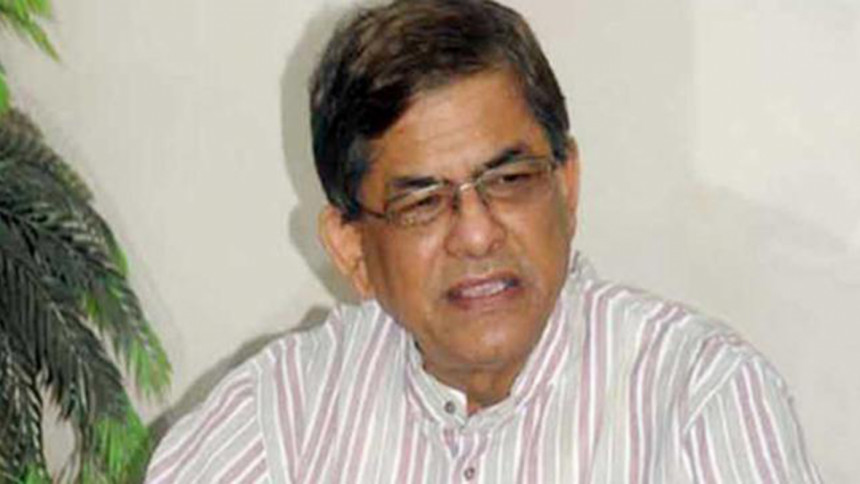 The government is attempting to arrange a stage managed one-sided election again keeping BNP out of the electoral process, party's Secretary General Mirza Fakhrul Islam Alamgir alleged today.
"No election will be acceptable if Khaleda Zia is not allowed to join it," Fakhrul said in an impromptu reaction over the Prime Minister Sheikh Hasina's resentment that she has nothing to do if BNP does not join the next polls.
Claiming that the government is drawing a design for holding a one-sided election again, Fakhrul said, "The government wants to hold unilateral election in a bid to score goals in an empty field."  
The BNP leader was talking to reporters at the party chief Khaleda Zia's Gulshan office hours after the prime minister's press conference at the Gono Bhaban.
About the PM's remarks on Zia Orphanage Trust graft case, Fakhrul said, "Keeping guns on the shoulder of the judiciary, the government has convicted Khaleda Zia implicating her with the false case."
The government will not be able to establish democracy in the country and conquer hearts of people by deceiving them, he said.
Reacting to the prime minister's criticism over dropping section seven of the party charter of BNP, Fakhrul said no major change has been brought by brining amendment to the party constitution.
"I can't understand one thing that why are they (ruling quarter) suffering from headache over BNP's constitution and its chairman?" he added.
Responding to a query, he said the party's senior vice chairman will be acting chairman in absence of the chairperson according to the party's constitution. In this context, Tarique Rahman has been made acting chairman, he said.
"This is not a matter of the government. It is our own matter and the decision has been taken in the party's council," Fakhrul said.
When asked about BNP's next step to free Khaleda Zia from jail, Fakhrul said an appeal petition will be submitted to the court by this week.