Pay Tk 50 lakh to Rajib's family: HC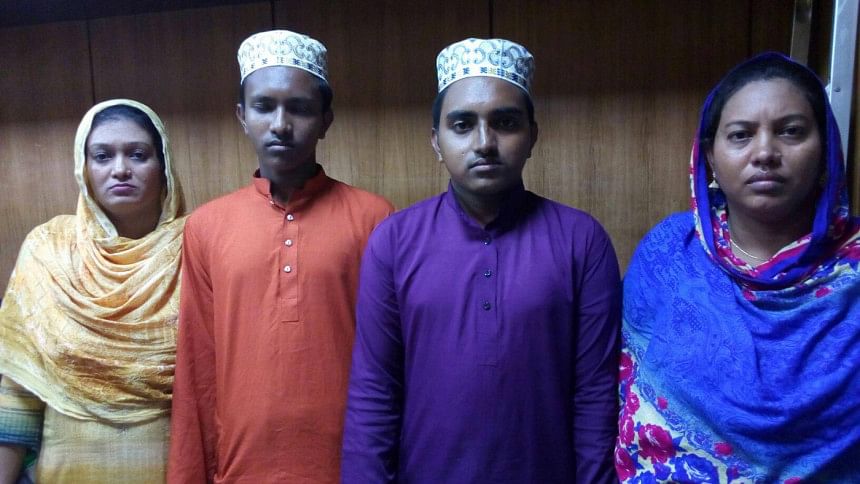 High Court has ordered two bus companies to pay Tk 50 lakh compensation over the death of Rajib Hossain, the student who died between two buses in Dhaka last year.
State-run Bangladesh Road Transport Corporation (BRTC) and owners of Sajan Paribahan have to pay Tk 25 lakh each to Rajib's two brothers within the next two months.
The HC bench of Justice JBM Hassan and Justice Md Khairul Alam delivered the verdict after hearing a rule seeking a compensation sum of Tk 1 crore to the victim's family.
Rajib's brothers Mehedi Hassan and Abdullah Bappi expressed satisfaction at the HC verdict.
"This judgement is very important for all," Mehedi told reporters after the verdict announcement.
BRTC's lawyer Barrister M Moniruzzaman told reporters that his client will move an appeal before the Appellate Division of the Supreme Court against the HC verdict as they did not get justice.
Government Titumir College student Rajib lost his hand between two racing buses in Dhaka on April 3 last year. He later succumbed to death from his injuries on April 17.
On May 8 last year, High Court ordered the two bus companies to pay Tk 1 crore to Rajib's family as compensation. However, both companies filed two separate petitions with the Supreme Court challenging the HC order.
On May 22 last year, the Supreme Court stayed the High Court order and asked it (HC) to form an independent committee to assess the liabilities.
The committee, led by Prof Mizanur Rahman, director of Accident Research Institute at Buet, said reckless driving was the "primary cause of the accident" and blamed Sajan Paribahan for the incident.
Barrister Ruhul Quddus Kazal argued for Rajib's compensation and DAG Motaher Hossain Sazu represented the state.