Bangladesh eyes $1bn from IT outsourcing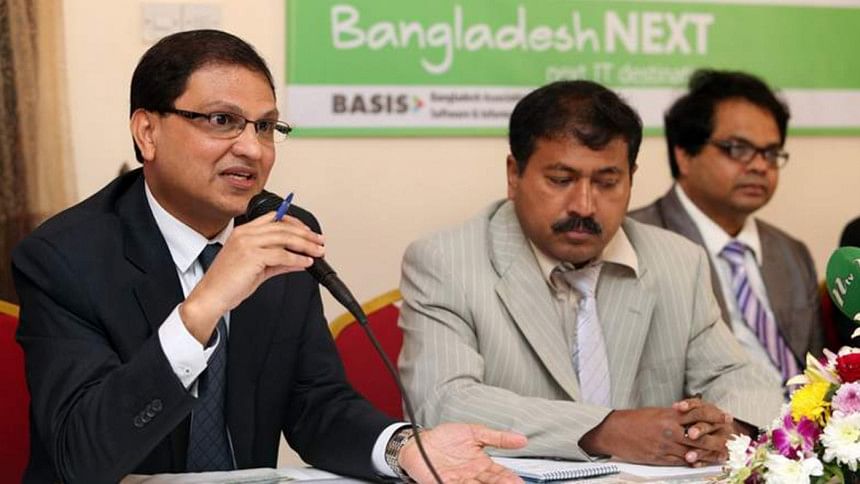 Bangladesh seeks $1 billion export earnings from IT outsourcing as it makes its mark at Gitex Technology Week 2015, reports UAE based Khaleej Times.
The South Asian country offers huge potential for the ICT sector as it gears up the digital transformation with Digital Bangladesh platform, as well as with the establishment of hi-tech parks across the country.
Export earnings from software and information technology enabled services, or ITES, in Bangladesh is expected to jump 250 percent from $400 million in 2014 to $1 billion in the next three years, according to the Bangladesh Association of Software and Information Services.
Bangladesh has 117 million mobile phone users that represent nearly 75 percent of the mobile phone penetration in the country. With the rapid expansion of mobile phone network and broadband Internet network all over the country, the number of internet users in Bangladesh has exceeded 50 million which is almost one-third of its population.
Bangladesh, which has more than 100 universities and 2,000 higher colleges, produces 350,000 graduates every year. More than 1.3 million students are currently pursuing higher studies in Bangladesh, which has 250,000 active IT professionals contributing to the growth of the IT sector, which has been declared as a thrust economic sector.
By 2018, Bangladesh plans to host one million IT professionals and add 10 million internet users per year. ITES companies currently employ more than 70,000 high-skilled professionals.
"The country has become a huge hub for freelance work via online marketplaces such as oDesk," research consultancy AT Kearney said in a recent report, Global Services Location Index.
"In fact, Bangladesh has become the number three country for contractors on oDesk in just three years, behind only the Philippines and India. It has quickly moved to the forefront of entrepreneurial activity thanks to its young, educated and rapidly growing workforce eager for opportunity."
"Bangladesh offers some of the best IT services with the best price due to historic lower cost base in our country," Dr AKM Rafique Ahammed, commercial counsellor of Bangladesh, said.
"The country has now a large pool of talents capable of undertaking any IT services, outsourcing work as the country's hidden potential is being recognised by the leading multinational corporations."