8.3km 'crime free zone' declared at border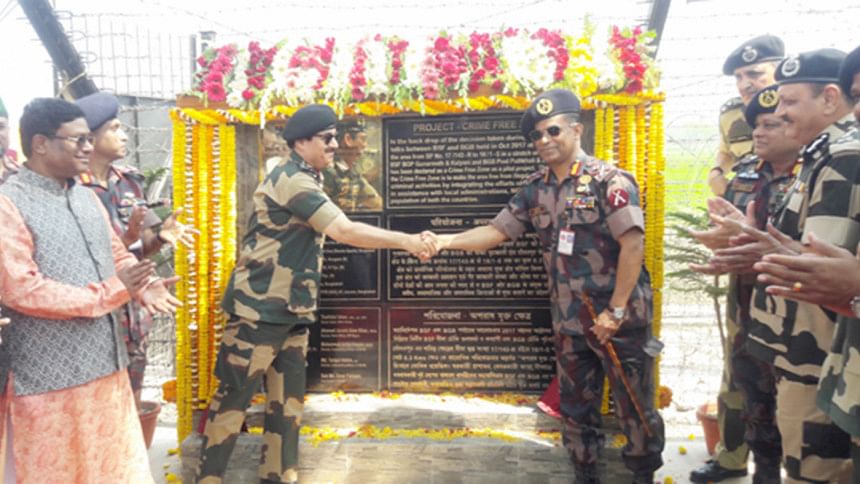 For the first time, Border Guard Bangladesh (BGB) and Indian border security force (BSF) have announced an 8.3-kilometer border area as 'crime free zone'.
The joint operation of the border guards of both the countries was inaugurated at BGB and BSF Director General level border conference at Putphali border in Benapole and the Kaliyani Border in India this afternoon, reports our Benapole correspondent.
Jessore-1 constituency MP Sheikh Afil Uddin, BGB Director General Maj Gen Abul Hossain, BSF Director General Shri KK Sharma and other high officials of the BGB, BSF and local government in both countries were present at the inaugural programme.
Lt Col Ariful Haque, commanding officer of 49 BGB battalion said that the "crime free zone" was inaugurated by BGB Director General Abul Hossain and BSF chief KK Sharma, which is in Putkhali and Doulatpur border of Bangladesh and the Gunarmath and Kaliyani border of India.
BSF sector commander Mridul Sen said, the decision was taken to make the crime free zone at the bilateral meeting of BGB-BSF Director General level in October 2017.
The main goal of crime free zone is to prevent trafficking of women in children, drugs,arms smuggling, anti-social and criminal activities, he said.