Ayman, Zaiba win The Queen's Young Leaders 2018 award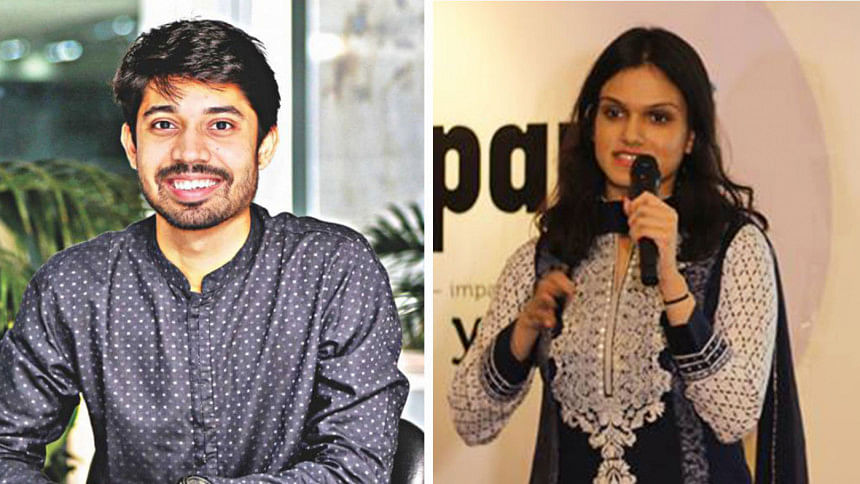 For their exceptional achievements in transforming lives, Ayman Sadiq and Zaiba Tahyya of Bangladesh have won The Queen's Young Leaders 2018 award.
Sadiq and Tahyya are among 60 others who have won The Queen's Young Leader Award from 37 countries across the Commonwealth.
The Queen's Young Leader Award recognises and celebrates exceptional people aged 18-29 from across the Commonwealth, who are taking the lead in their communities and using their skills to transform lives, according to the official website.
Founder of 10 Minute School, Ayman is improving access to education for young people throughout Bangladesh. 10 Minute School is a free online educational platform providing interactive videos, live classes, quizzes and smart books to students.
The school is run by Ayman and a team of 52 others, most of whom are students themselves. With over 40 million active users across all its channels, 10 Minute School is the largest free-learning platform of its kind in Bangladesh, according to the website.
Meanwhile, Zaiba works to promote equality in society and reduce violence against women in Bangladesh. With a degree in criminology, her experience as a researcher in the police force gave her unique insights into the problems of mobility and vulnerability among women in low-income areas of the country. Since being selected as a Global Shaper 2017-2018 by the World Economic Forum, Zaiba has been able to deliver a number of projects in Dhaka including one on anti-harassment, which uses paintings on the sides of buses to raise awareness of the issue.
She has also collaborated with a local legal firm to create a self-defence project for women, and partnered with a youth-based organisation to teach women how to ride bicycles, to increase their independence. Every five weeks, 40 girls receive self-defence and cycling training.
Winners of this prestigious Award will receive a unique package of training, mentoring and networking, including a one-week residential programme in the UK during which they will collect their Award from Queen Elizabeth.