'Attacker of Madaripur teacher' killed in 'shootout'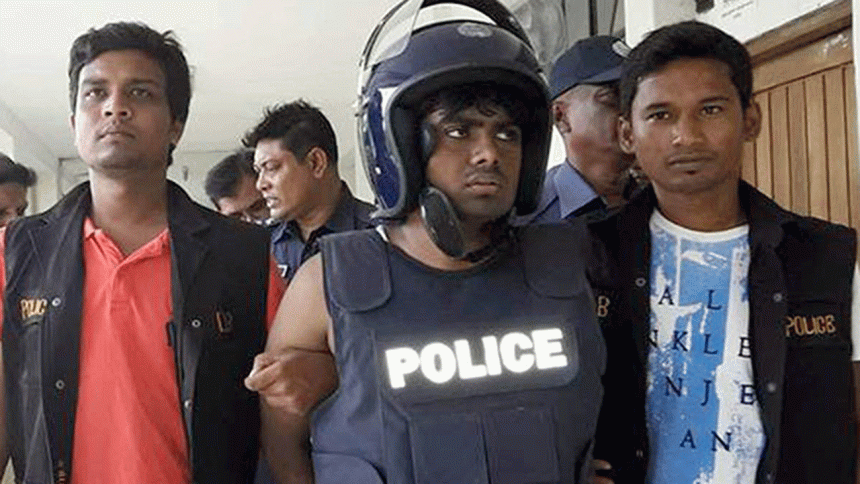 The alleged attacker of Madaripur teacher was killed in a "shootout" with police in Sadar upazila early today, four days into the machete attack.
Deceased Golam Faizullah Fahim, who had "admitted" to be a member of Hizb-ut Tahrir, was on a 10-day remand in connection with the attempted murder case.
READ MORE: Madaripur College teacher hacked at home
Ripan Chakraborty, a lecturer of Govt Nazimuddin University College in the district , was critically injured by criminals in Madaripur Sadar upazila on June 14.
Faizullah was caught by the locals while fleeing after the attack and was later handed over to police.
Shootout with police
Based on information given by Faizullah, law enforcers took him to Miachar area in Sadar upazila around 7:00am to nab his cohorts, Md Sarwar Hossain, superintendent of Madaripur police, told The Daily Star.
Sensing their presence, miscreants started shooting at law enforcers, forcing them to open fire that triggered the "shootout", the SP claimed.
READ MORE: Police sue Faizullah, 5 others
Bullet-wounded Faizullah was pronounced dead when he was taken to a Madaripur hospital, the police official said.
Police recovered firearms and ammunition from the spot during the drive, he said. The drive was on till 10:30am when the report was filed.
Accused in attempted murder case
Yesterday, Sub-Inspector of Madaripur Sadar Police Ayub Ali filed an attempted murder case against Faizullah and five named and several unnamed accused in connection with the attack.
The five other named accused are Taksin Salman alias Samil, 20, Shahrier Hossain Palash, 20, Mejbah, 19, Raihan, 20, and Jahin, 20.
According to police, Faizullah divulged the five names during his primary interrogation.
Police sources said apart from Faizullah, Samil and Palash directly took part in the attack carried out on Ripon at his home.
The other three named accused were part of a "backup team".
A Madaripur court yesterday placed Faizullah on a 10-day remand in the case.