Attack on Zafar Iqbal: Protest spread countrywide
Around 3,000 students of Shahjalal University of Science and Technology (SUST) formed a human chain on the campus around 9:30am, reports our Sylhet correspondent.
They will submit two memorandums to the government and will also launch a mass signature campaign later in the day.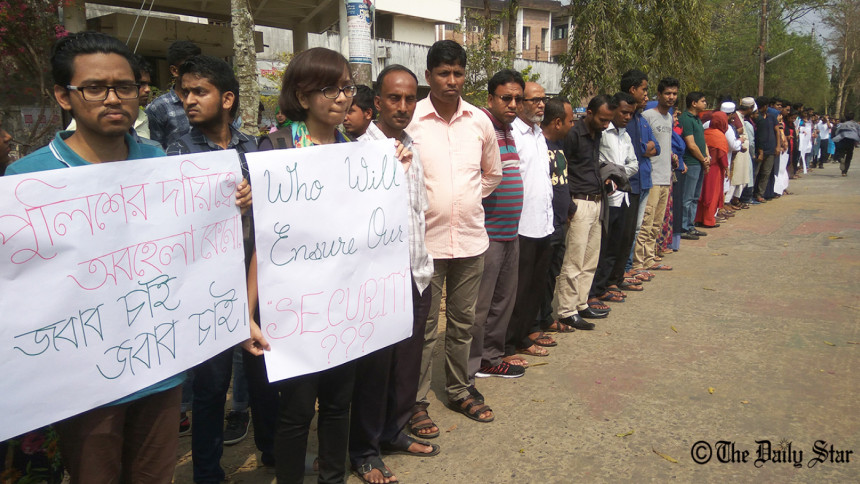 The students will also bring out a silent rally on the campus around 6:00pm.
Some other platforms of the university -- SUST Teachers' Association, Employees Association -- also held separate protest programmes on the campus today.
Contacted, the President of SUST Teachers' Association Professor Syed Hasanuzzan said, "The attack is an assault on the core of free-thinking and the spirit of Liberation War."
He urged that the masterminds and those involved with the attack will be identified and tried without any mercy.
SUST Proctor Zahir Uddin Ahmed said the question of insecurity applies to all who want to carry out free-thinking and secularism.
"The inability to curb this sort of militancy is a matter of grave concern," he said.
In Chittagong University, the students and teachers also formed a human chain in front of CU Bangabandhu Chattar demanding exemplary punishment of the culprits who attacked the eminent professor.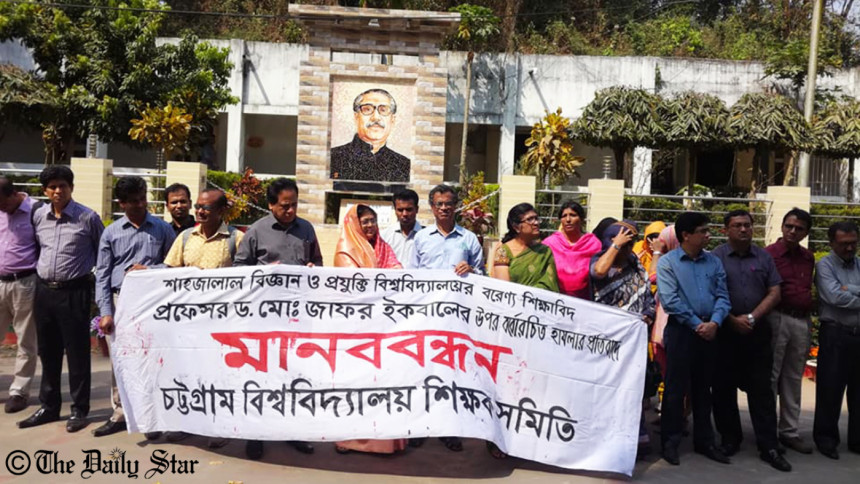 The protesters declared to observe a one-hour work abstention from 10:00am tomorrow and urged the government to immediately find out the masterminds behind the attack and bring them to book.
In Bogra, people from all walks of life including freedom fighters, members of civil society workers of different socio-cultural organisations, students and journalists formed a human chain to protest the attack at Satmatha in the town.
They held the protest programme under the banner of Progressive Civil Society and Ekattorer Ghatak-Dalal Nirmul Committee around 11:00am, reports our Bogra correspondent.
Dr Zafar Iqbal, a noted writer and a vocal advocate of secularism, was injured in a knife attack by a youth on SUST campus yesterday.
He was flown to Combined Military Hospital (CMH) in Dhaka by an air-ambulance at midnight. He is now doing well, a doctor at the CMH said today.