Analysis: Distasteful comments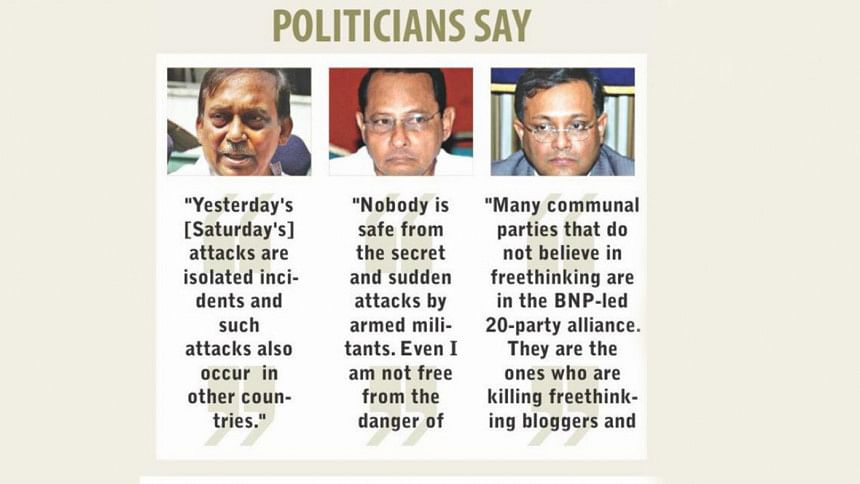 Should we call them unthinking or distasteful or outcome of politics overpowering ethics, tastes and values? Yes, we are talking about what the politicians and ministers are saying about the recent attacks on publishers and freethinkers.
First, Asaduzzaman Khan Kamal, the home minister, said such attacks are isolated incidents and occur in other countries too. Then Hasanul Huq Inu, the information minister, said nobody is safe from such militant attacks. Inu reminds us of another home minister of BNP-governemtn Altaf Hossain who said after the killing of a child that "Allar Mal Allah Niye Gasey" (Allah has taken back his own possession).
In the second types of comments, Awami League's publicity affairs secretary Hasan Mahmud said many communal parties that oppose freethinking are in the fold of BNP and they are behind such attacks. Food Minister Qamrul Islam said we should think if a country that opposed our liberation war and has fuelled militancy worldwide is playing any dangerous game here also.
There are two sides of such comments. First, they sound defensive and in the process reveal their helplessness in the face of repeated militant attacks.
In the second intonation, they want to hastily pin down their opposition and in a way hide their government's inadequate steps against militancy. We all know how inadequate the government action on attacks on bloggers was, we know none of the trials in the previous killings in the last two and a half years has started. Even in some cases, police investigation is yet to finish.
ALSO READ: Freethinking Mauled Once Again 
All this have made us all feel the more insecure. This is further fuelled when we hear from the detective branch's high official that such attacks are difficult to stop as we do not have anti-terrorism team.
It is exactly under such compulsions that Prof Abul Quashem Fazlul Huq, the father of the slain publisher Dipon, said he does not want any trial. His statement is today reverberated throughout Facebook. "Ami Bichar Chaina" (I don't want trial) has become a popular posting.