8 Bangladeshis held in Singapore for plotting attacks back home
Another 5 held in Dhaka after being repatriation from Singapore, Bangladesh envoy says the two countries are working together to curb militancy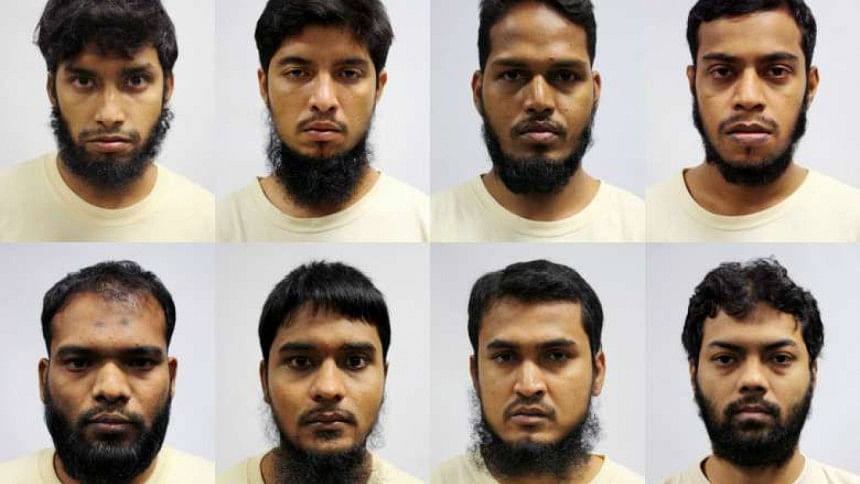 Eight Bangladeshi men working in Singapore, who were planning to stage terror attacks back home, have been detained, Singapore Ministry of Home Affairs announced today.
Aged between 26 and 34, the men called their group the Islamic State in Bangladesh (ISB), The Straits Times reports.
The arrestees intended to join terror group Islamic State as foreign fighters in Syria and Iraq. But as it was difficult to travel to the Middle East, they focused on returning to Bangladesh to topple their government through violent means, set up an Islamic State there, and bring it under the self-declared caliphate of the Islamic State in Iraq and Syria (ISIS), the report added.
Saying that the arrest took place on April 26, Bangladesh High Commissioner to Singapore Mahbub Uz Zaman today said that the authorities of both Bangladesh and Singapore are working closely to curb the militancy.
"Investigation is going on. We are closely working with the Singaporean authorities as our government has taken the security issue seriously," the envoy told The Daily Star over phone.
The eight are being quizzed now by the Singaporean authorities, he added.
Meanwhile, police in Dhaka arrested five Bangladeshi nationals, who were repatriated from Singapore after the authorities found that they "possessed and/or proliferated jihadi-related materials, or supported the use of armed violence in pursuit of a religious cause".
The Straits Times reported that the eight were detained in the first ISA detentions involving a terror cell of foreign workers.
Late last year, a closed religious study group of 27 radicalised Bangladeshi workers who had a significant amount of extremist material in their possession were arrested under the ISA, and deported. Their deportations were made public in January.
ALSO READ: S'pore deported 26 'radicalised' Bangladeshis
But in the latest case, the ministry said its investigations found that the men had identified possible targets for attack back home at the time of their arrest.
ALSO READ: Cops say 14 of 26 'radical' Bangladeshi workers linked to Ansarullah Bangla Team
They also had documents on weapons and bombmaking, and raised funds to buy firearms to carry out the attacks in Bangladesh. An undisclosed amount of money has been seized.
Found on 8 terror detainees: Kill-list, guide for sniper rifle, and bomb-making manual https://t.co/WYBvlVevNG pic.twitter.com/41wbcmFtEy

— The Straits Times (@STcom) May 3, 2016
The group's ringleader, Rahman Mizanur, 31, was an S-Pass holder in construction who set up ISB as a clandestine group in March this year.
He recruited the other seven, all Work Permit holders employed in the local construction and marine industries.
They are: Mamun Leakot Ali, 29; Sohag Ibrahim, 27; Miah Rubel, 26; Zzaman Daulat, 34; Islam Shariful, 27; Md Jabath Kysar Haje Norul Islam Sowdagar, 30; and Sohel Hawlader Ismail Hawlader, 29.
"ISB poses a security concern to Singapore because of its support for ISIS and its readiness to resort to the use of violence overseas," the Singapore Ministry of Home Affairs said in a statement on the detentions.
"The detained ISB members are still under investigation for their activities in Singapore. Rahman Mizanur has said he would carry out an attack anywhere if he was instructed by ISIS to do so, though there are no specific indications that Singapore had as yet been selected as a target," the ministry added.
Several of those detained may be liable for prosecution for terrorism financing, it said.
The detentions come at a time of mounting concern that ISIS is winning recruits from Bangladesh, which has recently seen radicals carrying out deadly attacks on minorities.
The ministry said a document titled We Need For Jihad Fight was recovered from Rahman Mizanur, which contained a list of Bangladeshi government and military officials who could be targeted. It included "media peoples" and "disbelievers".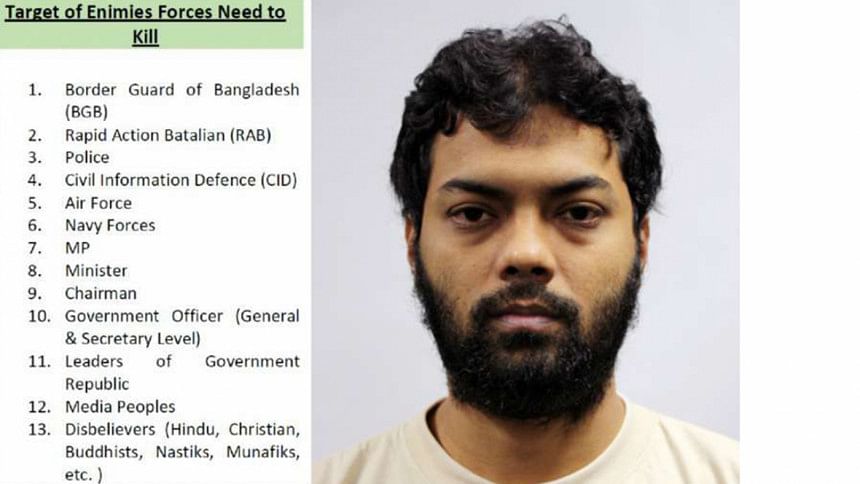 ALSO READ: Singapore releases kill-list found with Bangladeshis
He also possessed documents on weapons and bomb making, as well as a significant amount of ISIS and al-Qaeda radical material which he used to recruit ISB members in Singapore from January 2016.
"The ISB members planned to recruit other Bangladeshi nationals working in Singapore to grow the group," the ministry added.
The ministry said the Singapore government takes a very serious view of any form of support for terrorism.
"Any person, foreigner or otherwise, who engages in any activity that is inimical to Singapore's national security and racial and religious harmony will be firmly dealt with under the law. In this connection, foreigners should not import their own domestic political agenda into Singapore and carry out activities here in pursuit of such an agenda," it added.
The ministry said anyone who knows or suspects that a person has been radicalised, or is engaging in terrorist activities or propagating extremist teachings, should promptly inform the Internal Security Department on 1800-2626-473 or the police on 999.
5 HELD IN DHAKA
As part of the crackdown on ISB, another five Bangladeshi workers were investigated under the ISA. Singapore home ministry said investigations showed that they were not involved in ISB.
But they "possessed and/or proliferated jihadi-related materials, or supported the use of armed violence in pursuit of a religious cause".
The five, whom police identified as militants, were repatriated to Bangladesh on Friday.
Counter Terrorism and Transnational Crimes unit of Dhaka Metropolitan Police (DMP) arrested them from Banasree area near Hazrat Shahjalal International Airport around 11:30am today, Monirul Islam, additional commissioner of Dhaka Metropolitan Police, said at a press briefing.
The five are: Mizanur Rahman, Rana, Alamgir, Tanjimul Islam and Santu Khan.
Primary interrogation revealed that the five went to Singapore between 2007 and 2011 and got involved in terrorist activities, said Monirul.
There is possibility that they might be involved with Ansarullah Bangla Team (ABT), the police officer further said.
They will be produced before the court with 10-day remand prayer. "We will be able to understand the situation clearly once we can interrogate them," added Monirul.
*The Straits Times and The Daily Star are members of Asia News Network and share each other's contents.