S'pore deported 26 'radicalised' Bangladeshis
Dhaka police arrested 14, let 12 others go back to families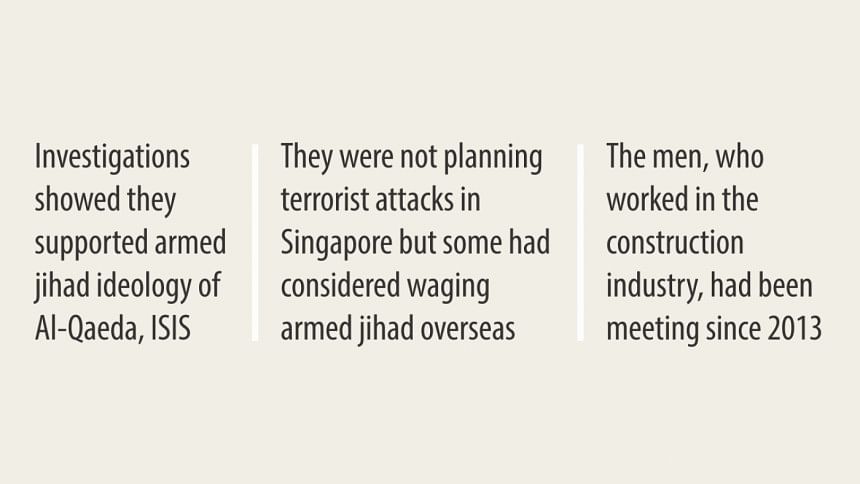 Dhaka police have arrested 14 out of 26 expatriate Bangladeshis who were recently deported from Singapore for allegedly being members of a jihadi terror cell.   
The other 12 have been allowed to go back to their families.
A Singapore home ministry press release circulated yesterday in its official website said the authorities arrested 27 Bangladeshis between November 16 and December 1 last year for "supporting armed jihad ideology of terrorist groups such as Islamic State (IS) and al-Qaeda".
Mug shots of the 27, who used to work at a construction field, were uploaded in the website. 
According to the ministry, 26 of them were members of a closed religious study group that allegedly subscribed to extremist beliefs and teachings of radical ideologues like Anwar al-Awlaki, a Yemeni Islamic lecturer alleged to have ties with militant group al-Qaeda.
Awlaki was killed in a drone strike in Yemen in September 2011.
The 26 have been deported to Bangladesh while one is still in Singapore prison for attempting to leave Singapore illegally after learning of his fellow members' arrests, the release read.
The man in prison was not a member of the group but was found to be in the process of becoming radicalised, and he also possessed jihad-related materials, the release said.
He will be repatriated once he completes his sentence, it added.
Of the 26 deportees, 14 returned on December 21. They were arrested the same day as primary investigation found them to have "militant links".
Also that day, police filed a case with the Uttara Purba Police Station against the suspects under the Anti-Terrorism Act. They are in jail custody now. 
"We arrested 14 people as we were convinced after interrogating them that they might have some militant links," Mashrukure Rahman, deputy commissioner (South Division) of Detective Branch at Dhaka Metropolitan Police, told The Daily Star yesterday. 
The remaining 12, who returned on different dates, were not arrested, as "detectives did not find their links with militancy in primary investigation", he said. "They are under close observation."
In the case statement, police mentioned that the 14 were arrested from around Khandaker Filling Station adjacent to Abdullahpur Bus Stand at about 7:45pm on December 21.
However, officials in the DB wishing anonymity said they arrested the militant suspects soon after their return at Hazrat Shahjalal International Airport following information from the Singapore authorities.
The next day, a Dhaka court placed them on remand for interrogation.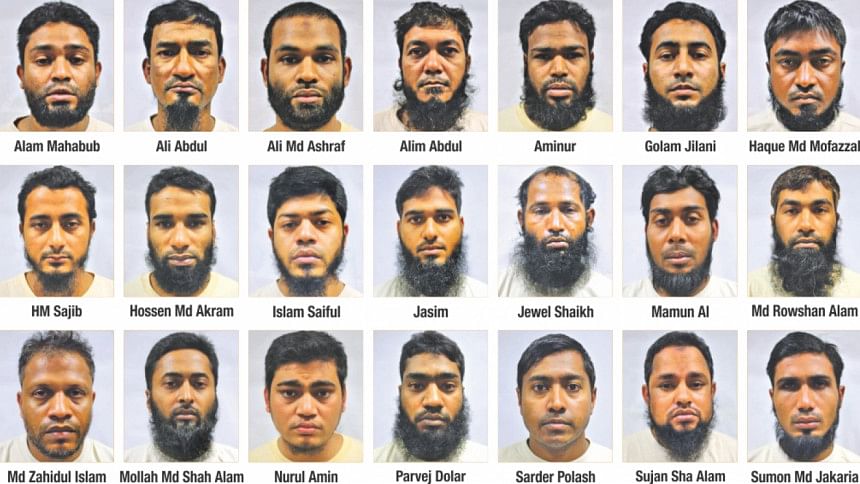 'IS, AL-QAEDA LINKS'
"Twenty-seven male Bangladeshis working in Singapore have been arrested under the Internal Security Act (ISA) -- the first time a jihadist terror cell comprising foreigners has been uncovered here," The Straits Times of Singapore wrote yesterday.
Investigations showed that the group, which had been meeting since 2013, supported the armed jihad ideology of terrorist groups such as al-Qaeda and the Islamic State, it said. 
Quoting the country's home ministry, the newspaper further wrote that some of them had considered waging armed jihad overseas, but they were not planning any terrorist attacks in Singapore.
Asked about their reported links with Islamic State (IS) and al-Qaeda, a top DB official here said they were yet to find evidence in this regard. "It takes time and intensive investigation to establish such links."
Though the Singapore authorities shared information about their deportation, they did not share any intelligence and evidence with Bangladesh, the official said.
About the 27 Bangladeshi workers, a senior official at the foreign ministry yesterday said there were no cases against them in Singapore. They were the followers of Ahle Hadith (a religious movement) and they used to invite people to accept Islam as religion, he added. 
Seeking anonymity, he also said there was no specific allegation of their involvement in militancy, extremism or terrorism, but they were under surveillance of the Singapore authorities. Their work permits were cancelled and they were sent back to Bangladesh on suspicion.
In Dhaka, the foreign ministry is likely to get a report from the Bangladesh mission in Singapore over the matter today.
Home Minister Asaduzzaman Khan Kamal told BBC Bangla Service that police are now investigating the allegations brought by the Singapore government against the Bangladeshis.
Meanwhile, the Bangladeshi community in Singapore has expressed shock at the news.
"It is a shameful situation," said Mohsin, editor of Banglar Kantha, a Bangla newspaper in Singapore.
"Bangladeshis are here to work, not to engage in political or extremist activities," he told The Straits Times yesterday.
Nuruzzaman, 32, a Bangladeshi construction worker there, said, "Singapore is very safe and secure ... and we like it this way."
"I hope," he said, "Singaporeans will not think that all of us are terrorists."
Helmy Isa, director of mosques for Islamic Religious Council of Singapore (MUIS), said he hopes the "exposé of the heinous plan" by the group does not tarnish the good image of Bangladeshi workers in Singapore, reports Channel NewsAsia.
Over the years, Bangladeshis have become part of and been embraced by the diverse mosque congregation, he said.
'RADICAL MATERIALS'
In the course of arrests of the Bangladeshi workers, the Internal Security Department of Singapore recovered a "significant amount" of radical and jihad-related materials, such as books and videos containing footage of children undergoing training in what appeared to be terrorist military camps.
Several members also possessed a shared document with graphic images and instructions on how to conduct "silent killings" using different methods and weapons, reported The Straits Times.
The Singapore ministry release said the group members took measures to avoid detection by the authorities, sharing jihad-related materials discreetly and holding weekly gatherings to discuss armed conflicts involving Muslims.
"They also carefully targeted the recruitment of other Bangladeshi nationals to grow their membership," it said.
A number of members admitted that they believed they should participate in and wage armed jihad on behalf of their religion. Several contemplated travelling to the Middle East to take part in the ongoing conflict.
Some of them were in support of terrorist groups that killed Shias since they considered Shias to be "deviant".
They also bore grievances against the Bangladesh government over its actions against some Islamic groups and leaders, said the Singapore ministry
"Members were encouraged to return to Bangladesh and wage armed jihad against the Bangladeshi government. They had also sent monetary donations to entities believed to be linked to extremist groups in Bangladesh."
"Foreigners are guests of our country and they should not abuse this privilege and use Singapore as a base to import their own domestic political agenda and carry out activities in pursuit of such an agenda," added the ministry.