Road crashes kill 6 in 3 districts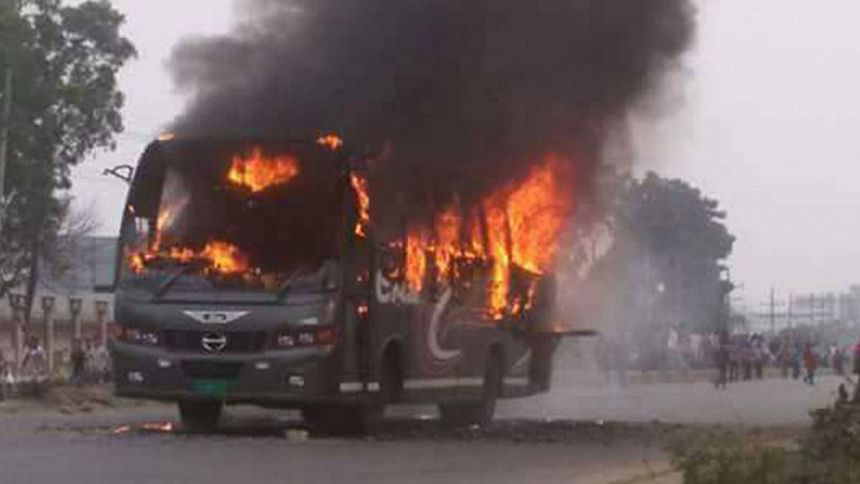 At least six people were killed and several others sustained injuries in separate road accidents in Dhaka, Mymensingh and Sylhet today.
In Dhaka, a 50-year-old worker was killed after a speedy microbus ran over him in Postogola area around 3:00pm, said Kazi Wazed Ali, officer-in-charge (OC) of Kadamtali Police Station.
Md Faruk, a worker of a re-rolling mill in the area, was on the way to his residence at Fatullah of Narayanganj for lunch, the OC said.
The victim was pronounced dead after he was rushed to Dhaka Medical College Hospital (DMCH) in critical condition, said Sub-inspector Bacchu Mia, in-charge of police outpost at the hospital.
Police seized the microbus and detained the driver soon after the incident, the OC added.
In Mymensingh, a 10-year-old schoolgirl was run over by a Mymensingh-bound bus leaving her dead on the spot, sparking protests by the locals at Bhaluka upazila of the district.
Fourth-grader Shimu Akhter, daughter of Mosharraf Hossain of Labonkuta village in Bhaluka, was crashed under the bus while crossing a road around 4.30pm, our Mymensingh correspondent reports quoting police.
Agitated people later blockaded the Dhaka-Mymensingh highway for nearly an hour and torched two buses, said Mamun-or-Rashid, officer-in-charge of Bhaluka Police Station.
Later, law enforcers managed to bring the situation under control, the OC added.
In Sylhet, four people were killed as a truck rammed an auto-rickshaw on Dhaka-Sylhet highway in Beanibazar upazila of Sylhet this evening.
Two of the deceased were identified as Sabbir and Dulal while the identity of the others could not be known immediately, reports our Moulvibazar correspondent quoting Chandan Chakrabarti, officer-in-charge of Beanibazar Police Station.
The incident took place around 6:00pm when a Sylhet-bound truck hit an oncoming auto-rickshaw in Tikrapara area, leaving three passengers of the auto-rickshaw dead on the spot and one injured, Sugyan Chakma, additional police super of the district told our correspondent.
The injured was rushed to Sylhet MAG Osmani Medical College Hospital where doctor pronounced him dead, he added.