6 Bangladeshis charged in Singapore with financing terrorism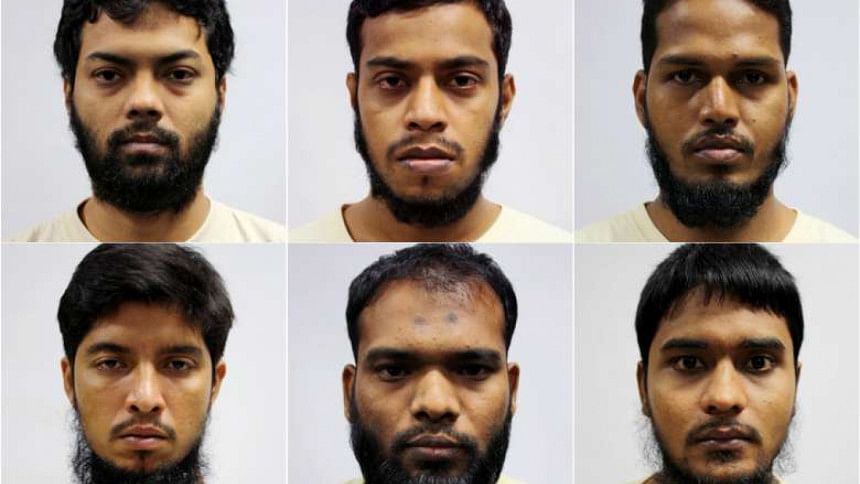 Six Bangladeshi workers detained last month in Singapore were charged today with financing terrorism.
The six, aged between 26 and 31, were among eight men arrested between late March and early April. Calling themselves the Islamic State in Bangladesh (ISB), the men were planning attacks back home in hopes of toppling the Bangladeshi government.
Their goal was to set up an Islamic State back home and bring it under the self-declared caliphate of the Islamic State in Iraq and Syria (ISIS).
The six men were charged with providing or collecting money for terrorism under the Terrorism (Suppression of Financing) Act.
They were detained according to  the Internal Security Act of Singapore (ISA).
They are Rahman Mizanur, 31; Mamun Leakot Ali, 29; Miah Rubel, 26; Zzaman Daulat, 34; Md Jabath Kysar Haje Norul Islam Sowdagar, 30; and Sohel Hawlader Ismail Hawlader, 29.
READ MORE: How Islamic State in Bangladesh began

 
They were brought to court just before 2:00pm in three separate armoured trucks, under heavy armed escort.
Rahman was identified by the Ministry of Home Affairs last month as the group's ringleader.
Two of the six - Miah and Jabath - were also being charged with possession of finances for terrorist purposes under the same Act.
Except for Mamun, all the accused told the court they intended to plead guilty. They are expected to do so on May 31 at a subsequent court hearing.
ALSO READ: Singapore releases kill-list found with Bangladeshis
A pre trial conference for Mamun has been set for June 9.
The six were the first to be prosecuted under the Act, said a police spokesman in a statement today.
The Act is one of several pieces of legislation passed in 2002, in the wake of the September 11 attacks in the United States and the foiled Jemaah Islamiyah plot in Singapore.
The police spokesman added that the Commercial Affairs Department had started its investigations into the six on April 8.
"Singapore takes a serious view of any support for terrorism-related activities, including terrorism financing," said the spokesman.
"The authorities will take firm and decisive action against any person who provides, collects and/or possesses property, for terrorist purposes."
Copyright: The Straits Times/ Asia News Network