Locals in Sylhet begin feeding monkeys going hungry amid shutdown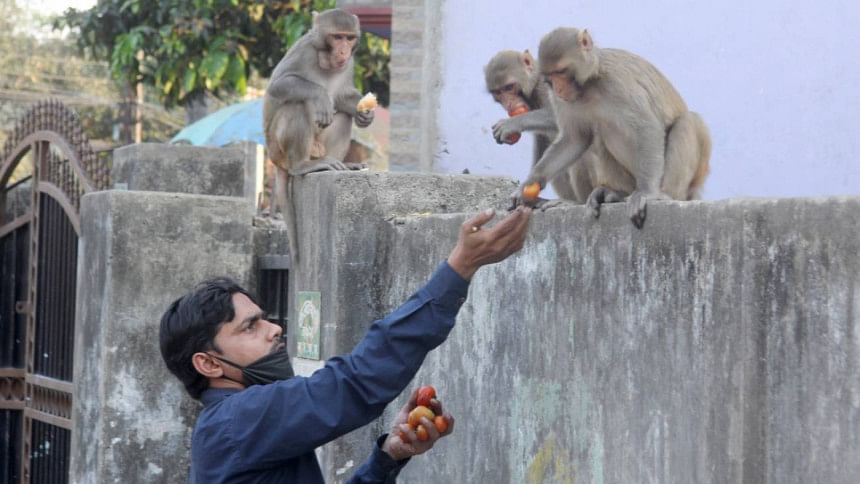 With most places closed down, street animals which occupy urban spaces with us and often rely on scraps from people are having to go hungry.
From street dogs, cats and pigeons, the internet is flooded with stories of people trying to be a little better every day during this crisis which has brought the whole world to a standstill.
In Sylhet, people have taken it upon themselves to feed the monkeys at the shrine of Chashni Pir at Amberkhana area.
The monkeys, who have been living at the shrine for centuries now, usually get scraps of food from tourists and pilgrims who would frequent the place on regular days. However, with the current countrywide shutdown being enforced since March 26, visitors stopped coming and with that, the monkeys' only source of food was gone.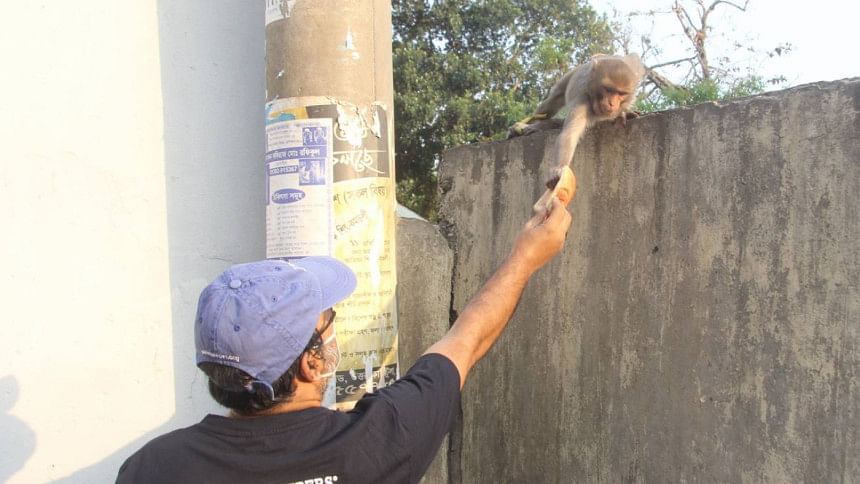 Over the years, rapid urbanisation has depleted natural sources of food, making these animals completely reliant on the food from visitors.
The initiative to feed the monkeys is not coming from any one organisation in particular, rather people in Sylhet are doing it organically.
And the monkeys? Well, they are sauntering up to the locals, extending their furry hands, taking the food, quickly gobbling up a piece of bread here, or a fruit there.
Razwan Ahmed, councillor of ward-5 of Sylhet City Corporation, said he along with some locals have decided to feed the monkeys three times a day.
All of this started from a Facebook video posted by a local journalist, Moin Uddin Monju, last Wednesday drawing attention to the starving monkeys.
The post prompted a flurry of response; all in favour of the little monkeys of the shrine. 
And now, the happy little creatures are well-fed once again!