'How I will buy food for my family': Daily wage earners counting losses during coronavirus outbreak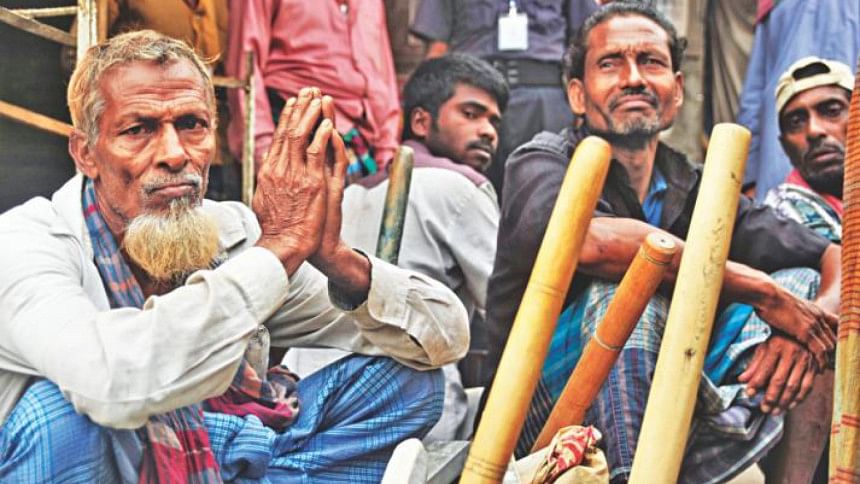 As some people with more regularised jobs and businesses gradually begin to work from home or enter stay-home modes across the country, livelihoods of low-income people are being hit hard.
"I don't know how I will buy food for my family as I earned only Tk 75 today, while I would have to pay Tk 100 rent for the rickshaw," said Shah Alam, a rickshaw-puller in Barishal town.
With people staying home, businesses suspended, constructions halted, and economy as a whole gradually slowing down, these day-to-day earners face an uphill battle to survive.
No day labourer was offered any work since Sunday morning when this correspondent visited Sagordi Bridge in Barishal city, where day labourers regularly come to be hired.
"I have been waiting here for the last two hours to get any work but no one came here to hire us for work today," said Abu Mia, a day labourer.
Drivers of battery-run auto-rickshaw and motor bikes for ride-sharing in Barishal and Jhalakathi town were also counting their losses due to a lack of passengers.
"I earned only Tk 280 on Saturday while I have to pay Tk 400 as the daily rent for my auto-rickshaw," said Shahin Hossain, a driver in Jhalakathi.
"I didn't find a single passenger since morning. I have to buy medicine for my mother daily along with groceries," said Saydul Islam, a bike-ride sharer at Rupatoli Bus Stand in Barishal city.
Around 25,000 auto-rickshaws, 15,000 rickshaws and 10,000 ride-sharing motorbikes ply in Barishal division.
Most also said they would rather have stayed home to remain safe if they did not have to worry about ensuring food for their family, or were provided enough support in this regard.