Covid-19 vaccination: How's Bangladesh doing compared to the rest of the world?
According to the latest update by Our World In Data, Bangladesh has administered at least 2.08 million doses. As per the number of people who received at least one dose of Covid-19 vaccine, as of February 20, Bangladesh holds 11th position in the global vaccination race -- ahead of Spain, Poland and Canada.
Through Beximco Pharmaceuticals, Bangladesh has secured priority contracts for 30 million doses from Serum Institute of India (SII), already received 5 million doses as per the procurement deal and 2 million doses more arrived on February 23, 2021. Despite The Economist's report, projecting that most low-income countries will not be able to roll out vaccines before 2023, Bangladesh seems to be on track to immunize priority groups by the start of third quarter this year, and inoculate rest of the population by mid-2022.
Since the start of inoculation drive on February 7, Bangladesh has been ahead of several countries in the European Union, who are yet to receive their collective vaccine consignment. Bangladesh is also ahead of many global powerhouses -- like South Korea and Australia -- who chose to wait and observe the side-effects of administering the new vaccines, and Japan who got entangled in age-old bureaucracy and distrust in foreign pharmaceuticals until very recently. In light of global vaccine rollouts, Bangladesh has emerged as a success. So, what did the Bangladesh government do right?
PROMPT VACCINE PROCUREMENT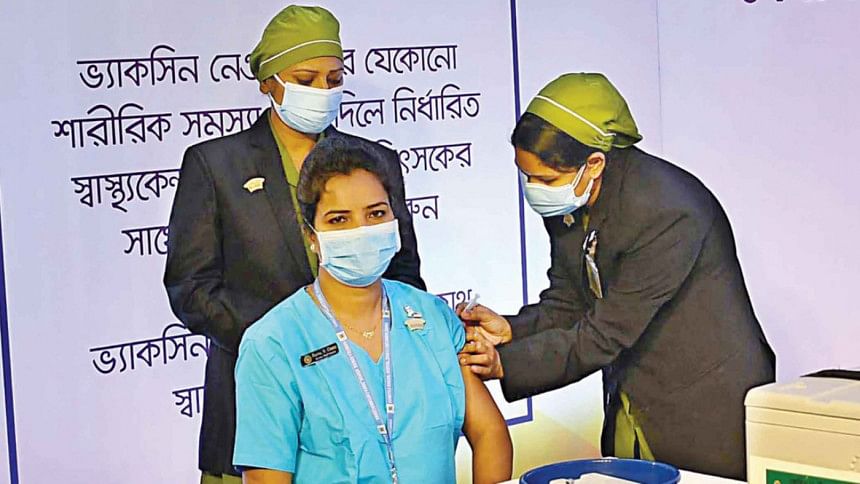 Oxford-AstraZeneca used a modified common cold virus (known as adenovirus) which does not infect people, but generates an immune response with the appropriate antibodies required to neutralize coronavirus strains. The adenovirus-vectored technology was easy to store in normal refrigerator temperatures, as opposed to Pfizer and Moderna vaccines which require subzero temperatures until use. The trade-offs became apparent: Instead of investing to improve cold-chains all around the country, it was more important to prioritize inoculation as soon as possible.
At the time Bangladesh Government moved to procure vaccines, Oxford-AstraZeneca was geared to enter Phase III trials, leading the race against another Chinese adenovirus-vectored vaccine. The initial results were promising, but everything was up in the air back in August 2020, and the Bangladesh Government took a calculated decision.
DIPLOMATIC CONSISTENCY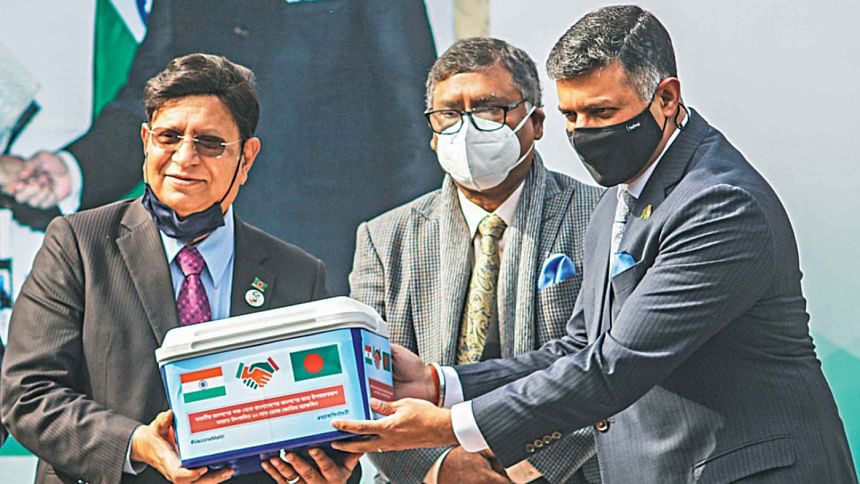 As part of diplomatic consistency with neighbour and ally, India, Dhaka was able to promptly secure vaccine agreements with Serum Institute. Beximco Pharmaceuticals also contributed an amount for the development of the vaccines manufactured by SII, in partnership with AstraZeneca of UK, the Gates Foundation and Global Alliance for Vaccine and Immunisation (GAVI). As a result, Bangladesh was one of the first to receive vaccines from SII. As a sign of deepening cooperation, Bangladesh also received 2 million more doses as "gift" from India.
Dialogues regarding vaccine cooperation between India and Bangladesh began at the height of China-India clash at the Galwan border. Dhaka was offered to stage trials for Chinese vaccine candidates, "bearing" half of the costs. In October, 2020, a wary Bangladesh rejected the offer to fund $7 million for the late-stage trial. Health Minister Zahid Maleque cited that initial agreement did not mention sharing the costs.
China's other vaccine trials in foreign land also faced unique obstacles. In May 2020, Bloomberg reported that Canada struck a multibillion dollar deal with Chinese pharmaceutical company CanSino Biologics Inc. to stage human trials in Canada for one of the most promising vaccine candidates at the time. Just after formally announcing the deal in August, China shut off all shipments to Canada as a response to continued imprisonment of Huawei CFO and Deputy Chair Meng Wanzhou, who was arrested in 2018 at Vancouver facing extradition to the United States. After leading the world in per-capita spending related to the Covid-19 pandemic, Canada has inoculated nearly 2% of its population and currently prepares for a slow vaccination campaign likely to end late 2022.
PREVIOUS IMMUNIZATION EXPERIENCE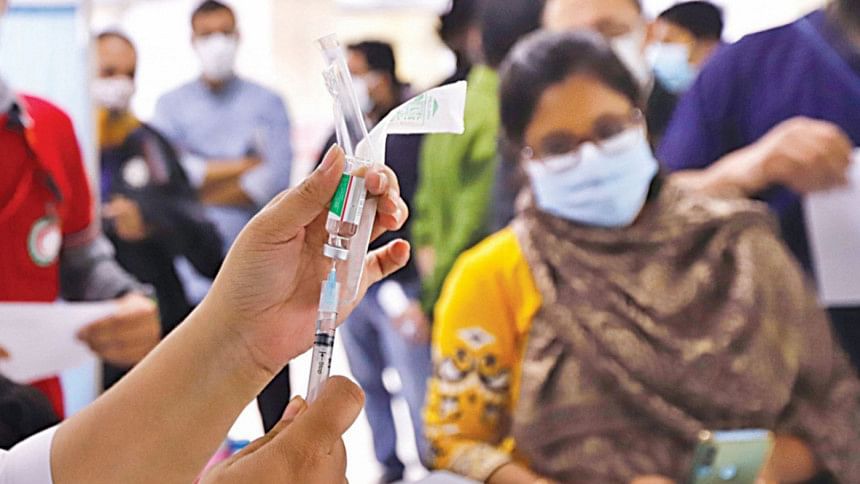 Early vaccination success should also be attributed to Bangladesh's previous experience in rolling out robust vaccination campaigns. Since 1985, Bangladesh has successfully backed its commitment to the United Nations in achieving universal access to child immunization by 1990. Significant part of the commitment included procurement of improved cold-chain equipments, training of vaccination teams, development of strategies for effective immunization delivery, etc. The biggest public health success came after two decades of persistence later, in 2014, when Bangladesh was declared a polio-free country by the regional certification committee of WHO South Asia region.
The country's previous vaccination efforts helped authorities comprehend the urgency and necessary preparedness that were required for fast and efficient rollout. As a result, Bangladesh has been able to rapidly accelerate its inoculation effort at the early stages.
Albeit vaccination campaigns have only been rolled out in cities, the distribution chain in rural areas are being adequately trained and hammered into place before the rollout reaches there too. Experts working with United Kingdom Research and Innovation (UKRI) have identified management of cold-chains as one of the biggest challenges that low-income countries like Bangladesh are likely to face. They also believe work addressing the challenge of cold-chains in low income countries will help create a blueprint and model for efficient delivery so that vaccines are distributed nationwide.
Covid-19 pandemic is a fluid situation where the state of progress constantly changes with new information. While skeptics can claim the rate of inoculation might slow down in the future, Bangladesh's early stage rollout has been an administrative success, backed by consistent diplomacy. Only time will reveal how fast, or slow we will go.