Oxford Vaccines from Serum, India:50 lakh shots arrive today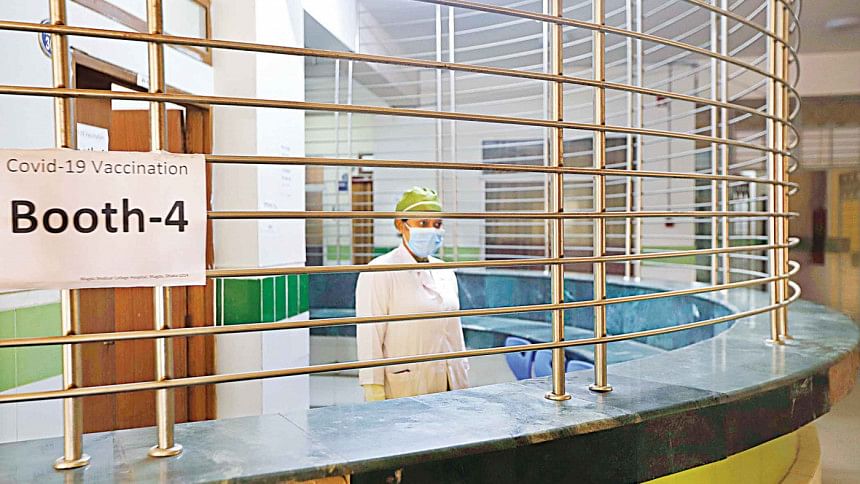 With all uncertainties over obtaining Covid vaccines removed, the main challenges for the government ahead are to run the mass inoculation campaign smoothly and involve people in the process, say experts.
Bangladesh has already received 20 lakh doses of the Oxford-AstraZeneca vaccine as a gift from the Indian government. And the first consignment of 50 lakh doses of the same vaccine called Covishield arrives in Dhaka today from Serum Institute of India.
The country has so far purchased three crore doses from Serum through Beximco Pharmaceuticals Ltd, local agent of the Indian firm.
A special flight of Air India carrying the first consignment of vaccine shots is expected to land at Hazrat Shahjalal International Airport at 11:30am today, Nazmul Hassan Papon, managing director of Beximco Pharmaceuticals Ltd, told The Daily Star yesterday.
The vaccine shots will then be transported to Beximco warehouses in Tongi before being dispatched to the government-designated destinations.
Talking to this newspaper, a number of experts and government officials welcomed the news of arrival of vaccine shots after more than 10 months of detection of the first Covid case in the country.
Initially, there were doubts whether Bangladesh would get the vaccine doses timely and whether it has the capacity to store and transport those properly.
Health Minister Zahid Maleque yesterday said there will be no crisis of vaccine in the country and everybody will get vaccines free-of-cost.
Dr Abul Bashar Mohammad Khurshid Alam, director general of the Directorate General of Health Services, said, "We are happy that we are going to get the vaccine in time. This is a real morale boost for us."
He also hoped the vaccination programme will run smoothly.
DGHS officials said the government plans to give the first dose of vaccine to 60 lakh people in the first month and another 50 lakh in the second month.
The COVAX programme, led by the World Health Organisation and Gavi, the Vaccine Alliance, offered Bangladesh around four lakh doses of Pfizer vaccine earlier this month. The alliance has committed to give Bangladesh a total of 6.8 crore vaccine shots.
Pilot vaccination in the country will start on January 27 while mass vaccination will begin on February 8.
The online registration for vaccination starts tomorrow. A press conference in this regard will be held at the Prime Minister's Office today.
Experts, however, said one of major challenges for the government now is to make people aware of the necessity of taking vaccines and to get them vaccinated.
Prof Sayedur Rahman, chairman of pharmacology department at Bangabandhu Sheikh Mujib Medical University (BSMMU), said the vaccine's arrival in the country is indeed good news.
But before launching vaccination, the government should make an immediate assessment to identify the most vulnerable groups and the areas with high infection rates, he said.
"There should be a vaccine trial to see whether the process runs smoothly or not. Besides, it is also important to vaccinate people efficiently without infecting others."
The registration process should be hassle-free and measures need to be put in place to ensure that vaccines are administered at every designated centre in an orderly fashion to prevent chaos, Sayedur observed.
"There should be a backup plan in case there is any unexpected disruption during transportation and storage of vaccine. Another point is that the government should take some remedial measures to raise confidence among people about vaccines."
Prof Be-Nazir Ahmed, former director (disease control) at the DGHS, said that now it's time to administer the vaccine to people efficiently and skilfully in an organised manner.
The aim of vaccination is to save lives and break the chain of virus transmission. And people have to be involved in the process to achieve that, he pointed out.
"There must be community mobilisation and also huge publicity. This will make people feel that they are very much part of this process. We got enough time for preparations but it seems that the government could not utilise the time properly."
Be-Nazir further said the listing of vaccine recipients could have been completed and more vaccination centres readied by this time to cover more people.
Covid has already claimed 8,023 lives and infected 531,799 people in the country. Besides, there are asymptomatic cases.