Collection centre sets example by delivering Covid-19 test report in 9hrs to Saudi expat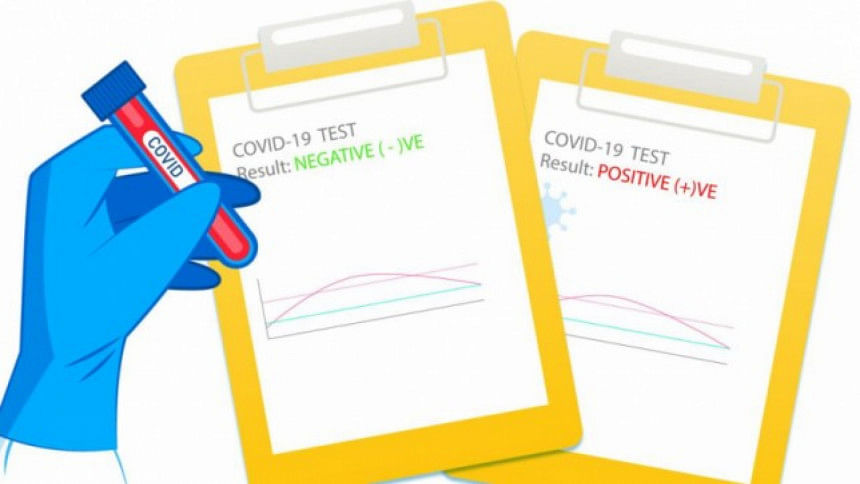 Staffers of the sample collection centre at the Dhaka North City Corporation market delivered a Covid-19 test report within just nine hours of sample collection of a Saudi-bound expatriate Bangladeshi worker.
The speed and efficiency of the staffers set an example and helped Mir Abdus Salam catch his flight at 3:35am earlier today to go to Riyadh.
"The Saudi-bound worker [Salam] came to the sample collection centre around 2:00pm yesterday -- the time when we are scheduled to stop sample collection," Dr Moinul Ahsan, civil surgeon, Dhaka, told The Daily Star today.
"But Abdus Salam requested the staffers and explained he got the ticket few hours ago and his flight was scheduled for 3:30am," he added.
Moinul said they only had nine hours to carry out the test and deliver the report to Abdus Salam as he would have to report to Hazrat Shahjalal International Airport by 11:30pm on Saturday.
READ MORE: No Saudi-bound Bangladeshi missed flight last night
He said: "Usually, we are supposed to get 48 hours as per the guideline of Saudi Arabian airlines to carry out Covid-19 tests for overseas passengers.
"But considering the remittance earning fighters of our country, we took Abdus Salam's case as a challenge. We immediately collected his sample for Covid-19 test and sent it to the National Institute of Laboratory Medicine and Referral Centre through a special courier to carry out the test," the civil surgeon said.
Moinul said, "Both Abdus Salam and we were lucky that at the time a machine having the capacity of carrying out tests of 94 samples was being prepared. As per the instruction, Abdus Salam's sample was included in the machine as there was an opportunity to do so.
"Immediately after getting the test report, we completed other related works, including making the entry of the test report to the relevant server and handed over the test report to Abdus Salam around 11:00pm," he said, adding, "We have information that he reached the airport by 11:30pm and could catch his flight."
The Dhaka civil surgeon said Saudi Airlines authority should issue tickets and allocate flight schedules to the passengers so that they can get 48 hours to carry out their Covid-19 tests.
"But the Saudi Airlines are issuing tickets and setting flight schedules in such a way that we are not getting even 24 hours to carry out the Covid-19 test.
"In case of failure to get the test result due to shortage of time, Bangladeshi workers might miss their flight. Then who will take responsibility?" he questioned.
Moinul said they are scheduled to stop collecting blood samples after 2:00 pm. But considering remittance-earning workers, they have been collecting samples till late night for the last few days.
"But we usually need at least 24 hours to carry out the Covid-19 test."
Talking to this correspondent, several Saudi-bound passengers blamed Saudi Airlines officials and travel agents for issuing tickets and confirming flight schedules without giving them the necessary time to carry out Covid-19 tests.
The Daily Star tried several times to reach Saudi Airlines for comments, but could not do so.
Saudi Airlines is now operating weekly two flights from Dhaka. The airline is scheduled to operate four weekly flights from October 1.
Biman is scheduled to resume its regular flight to Saudi from October 1 as around 50,000 stranded Bangladeshis workers have been waiting to return to their workplaces since March due to the Covid-19 pandemic.
Many expatriate workers fear they might lose their job if they fail to return to their workplaces in the gulf country before the expiry of their visas and iqama.