WOES CONTINUE IN PORT CITY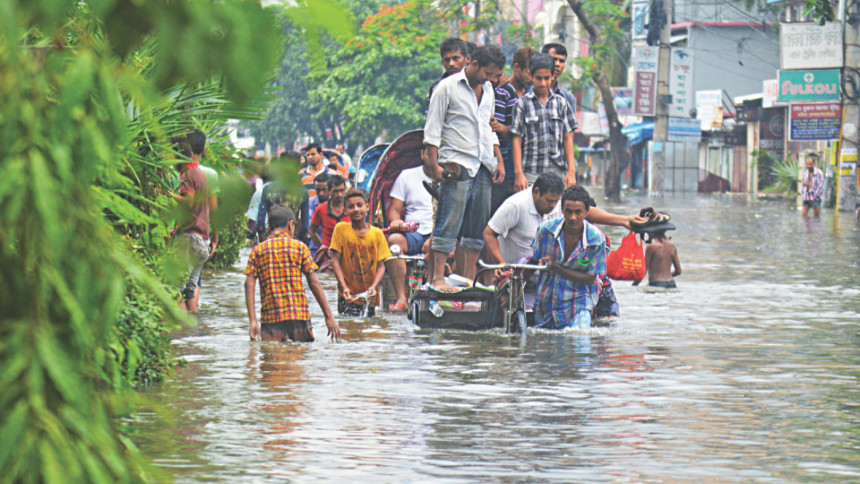 Residents of most of the areas in Chittagong city and at least 10 upazilas of the district are affected by waterlogging resulted from incessant rainfall since Sunday late night.
Vehicular movement also got snapped from Chittagong to Bandarban and Rangamati since yesterday morning as the roads went under water.
On the other hand, vehicular movement from Chittagong to Cox's Bazar resumed yesterday afternoon, but not in full swing.
Chittagong Met Office recorded 131.6 mm rainfall till yesterday noon in the last 24 hours.
In the city, the most affected areas are south Agrabad, Gosaildanga, north Agrabad and north-middle Halishahar.
Around five lakh people of those wards have remained waterlogged since the wee hours of Monday.
Visiting the areas, it was seen that water entered the ground floors of most of the houses and establishments. Many had to take shelter elsewhere.
At the same time, many residing in semi-permanent houses and slums spent the night amid around four feet deep water in a desperate attempt to save their belongings.
The family of Mohammad Hossain in Gosaildanga area was one of the worst sufferers. The six-member family tried their best to save their valuables from water, but to no avail.
"First, I put small tables in a row and then put bricks on top of those. Then, I put a couch on it in a bid to save the valuables from the rising water," said Hossain.
He said the water level rose to over four feet till yesterday afternoon. "We cannot cook, or take bath. We cannot even use the toilet."
Meanwhile, Rezaul Karim, a resident of Bepari Para, along with five of his family members took shelter at a local school on Monday night after their house went under waist-deep water.
"We were stuck in knee-deep water inside the house since Sunday night. But we couldn't stay any longer as the water level rose," said Rezaul.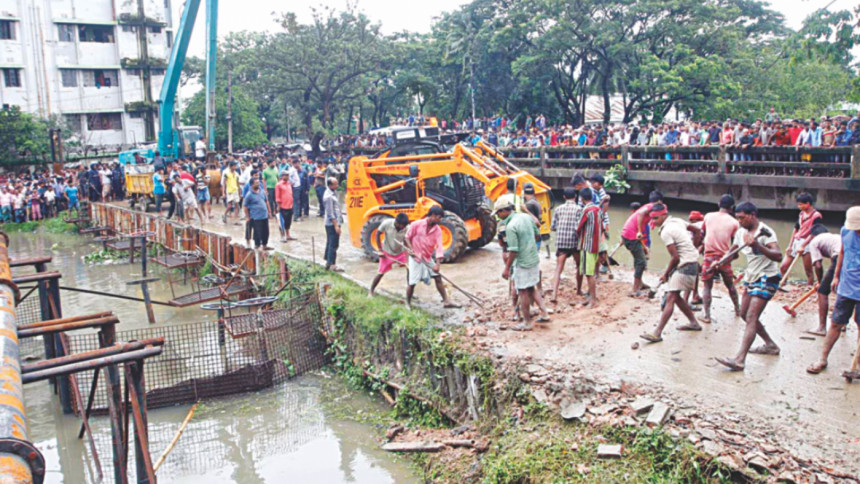 Like Rezaul's family, around 150 people took shelter inside the school since Monday night.
Contacted, Habibul Haque, councillor of ward 36 (Gosaildanga), said four to five lakh people in Agrabad, Gosaildanga, north Agrabad and north-middle Halishahar areas located at the upstream of the Maheshkhal embankment were the worst waterlogging sufferers.
The temporary levee was constructed in 2015 to save the areas from tidal surge. But after its construction, water cannot recede in the areas, he said.
The other affected areas include West Bakalia, Chawkbazar, Kapasgola, Badurtola, Bahaddarhat, Halishahar, Bibirhat, Nazir Para, Shulakbahar, Chandgaon, Pathantuli, Dewan Bazar, Oxygen, Muradpur and Sholashahar Gate 2.
Sukanta Biswas, a resident of Bakalia Rahattar Pool area, said water entered twice inside his house on Monday. "We cannot rest our eyes even for a moment fearing that it might enter again."
The ground floor of Chattagram Ma-O-Shishu Hospital Medical College has been under knee-deep water since Sunday, escalating sufferings of patients and attendants.
Md Jasim went to the hospital from Sitakunda along with his pregnant wife. She gave birth to a girl on Sunday night.
"Water is everywhere. We have to wade through knee- to waist-deep water on the street anytime we had to go out to get something," he said.
Meanwhile, to mitigate the city's waterlogging crisis, Chittagong City Corporation began removal work of the embankment on Moheshkhal yesterday afternoon.
CCC Mayor AJM Nasir Uddin said CCC took the initiative to mitigate the areas' waterlogging crisis. "Also, steps have been taken to permanently solve the waterlogging crisis of other areas."
Meanwhile, people of over 150 villages in around 10 upazilas including Chandanaish, Rangunia, Fatikchhari, Banshkhali, Patiya, Hathazari and Raozan have been marooned since Sunday night due to the incessant rainfall coupled with the onrush of hilly water.Vegetable fields, ponds and poultry farms of those villages were washed out. Road communication was also snapped, said locals.