Nepal Plane Crash
Funeral of last 3 victims held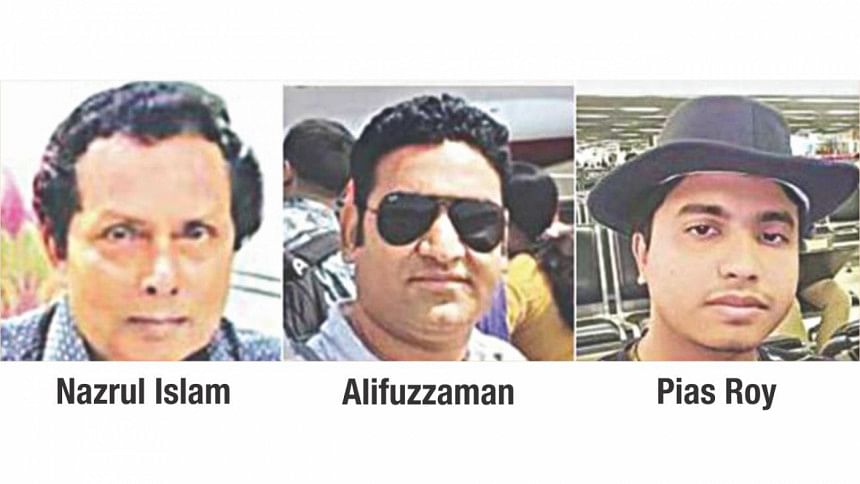 The funeral of last three Bangladeshi victims of the US-Bangla aircraft crash was held yesterday. 
Earlier, on Thursday, the bodies of the three remaining victims arrived in Dhaka. 
The victims are Nazrul Islam, 62, of Rajshahi, Alifuzzaman Alif, 30, of Khulna and Pias Roy, 23, of Barisal.
Nazrul, also a freedom fighter, was laid to eternal rest with state honour beside his wife at Gourhanga graveyard in Rajshahi.
His daughters -- Naznin Akhtar Kakon and Nargis Akhtar Konok -- received the body of their father at Hazrat Shahjalal International Airport. The body was then taken to his village home of Rohonpur in Chapainawabganj and after his namaz-e-janaza, the body was then taken back to Rajshahi city.
His coffin was covered with the flag of Bangladesh and a police team of Rajshahi Metropolitan Police gave him a guard of honour.
Later, the district administration, the city freedom fighters' command and other dignitaries placed floral wreaths on his coffin.
In 1971, he took training in Indian Siliguri and then fought against the Pakistan army under the sector No. 7 in Rajshahi region.
Earlier, on Monday, family members received the body of Nazrul's wife Akhtara Begum, who was also killed in the plane crash, at the Army Stadium. 
In Khulna, another victim Alifuzzaman Alif was buried at Razapur Madrasa graveyard in the afternoon after a namaz-e-janaza at Belfulia Islamia School in Rupsha upazila, reports our district correspondent.
Meanwhile, another victim Pias Roy was cremated at Barisal Maha Shashan yesterday morning. 
After arriving at Hazrat Shahjalal International Airport, the body was brought to Govt Sayera Khatun Medical College around 9:00pm on Thursday where his friends and teachers paid him last tribute. Pias was the final-year student of the college. 
From the college, the body was taken to Pias' residence in Barisal early yesterday. At 9:00am, the body was brought to Barisal Zilla School. He was a former student of the institute.
Later, the body was taken to the cremation ground.