190 Gulistan traders shown arrested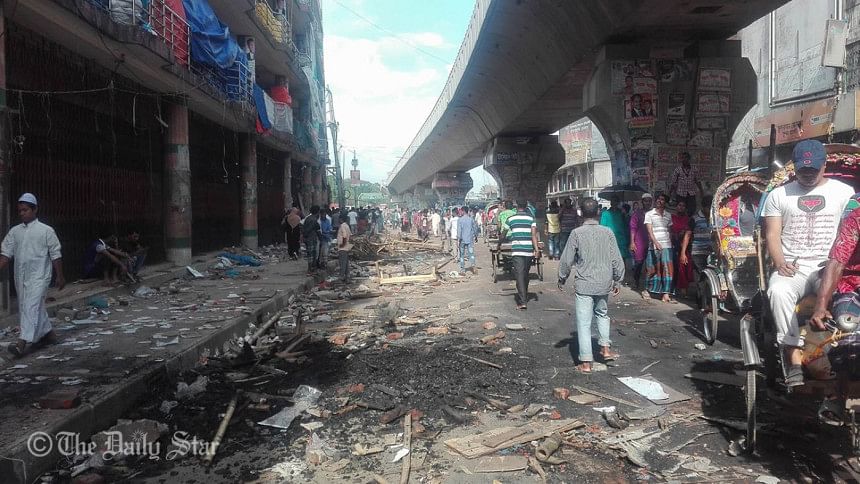 In sequel to yesterday, shop owners of Dhaka Trade Centre mall and hawkers clashed again today in capital's Gulistan area. At least 50 including a top police official were hurt.
In the latest update, 190 detained during clash were shown arrested in a violence case filed yesterday, said a duty officer of Paltan Police Station. They will be produced at court tomorrow.
The clash took place over evicting hawkers from the area around 11:00am. Shop owners of the mall had asked them to clear off the premises of the market ahead of Eid sales.
Police were compelled to fire teargas shells to bring the situation under control, Tarique Bin Rashid, additional deputy commissioner (Motijheel zone), told The Daily Star.
A total of 150 traders and hawkers were held from the spot, he said. The shopping mall has been kept closed at the moment to avert any further untoward incident.
During the clash, Anwar Hossain, deputy commissioner (Motijheel zone) of Dhaka police, sustained injuries to his forehead and was rushed to Dhaka Medical College Hospital, said Sub-Inspector Bachhu of the hospital's police outpost.
Yesterday, the hawkers clashed with shop owners when Dhaka Metropolitan Police were evicting hawkers from the area. Today, the heat carried on between the two sides.
DMP Commissioner Asaduzzaman Mia visited the spot and told reporters that police will take action against the hawkers who clashed today.
A hawker leader sought anonymity to tell The Daily Star that around 50 hawkers were injured in the clash. "We run our businesses on the footpaths. Now it is Eid time. What do we do?"
He expressed his willingness to reach an understanding with the shop owners. "Otherwise, we have to beg on the streets."
Meanwhile, a shop owner also sought anonymity to tell The Daily Star that hundreds of shop owners have been arrested. "The police have chosen sides with hawkers."
Leaders of both sides were in hiding fearing more detentions. However, a case was yet to be filed in this regard.
This evening, a total of 190 people were shown arrested in the case.