Too little done for a freedom fighter
Roma Chowdhury being treated for fractured bone in clinic after staying on CMCH floor for over 3hrs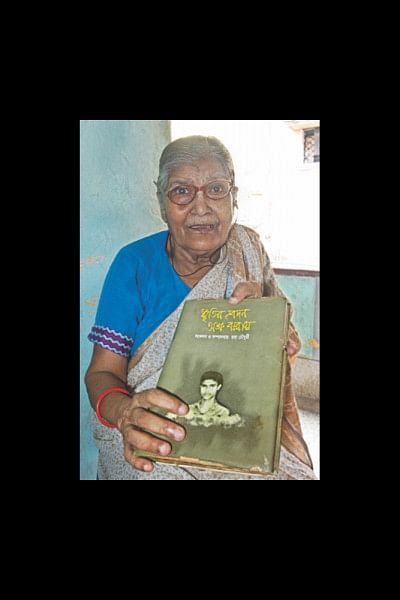 In 1971, when the war broke out, Roma refused to leave her motherland. And she paid a price for that -- the Pakistani occupation army tortured and raped her. She also lost two of her sons in two months' succession in the same year.
After independence, Roma Chowdhury started living her life as a single mother with her two other sons. She valued self-respect and lived on her own. The only earning source she had was selling her books, walking barefoot on the street. Roma even declined to be enlisted as freedom fighter and take the allowance from the government because she thought she was earning enough by selling books.
Finally, the ageing, frail body triumphed over her strong will. She started falling sick. Around six months back, her health condition began to deteriorate. The final blow came on December 24 when she fell down on the floor and broke her right femur.
At 77 now, Roma was immediately taken to Chittagong Medical College Hospital (CMCH), but her attendants had to move her to a private clinic after CMCH authorities failed to shift her to a bed from the floor. Her condition was critical. "When we brought her to the emergency ward of CMCH, she was referred to the orthopedic ward but we got no bed there," said Alauddin Khokan, publisher of her books, adding, "She was left on the floor for around three and a half hours."
"When we informed the staff that she is a freedom fighter and she should have privilege in treatment, the staffers started to misbehave with us."
"Then I informed the civil surgeon and he contacted CMCH authorities to provide her a seat, but in vain," he said, adding, "At last we shifted her to a private clinic as she became restless."
Doctors said Roma was suffering from diabetes, breathing problems and hypertension.
Alauddin, who apparently looks after the ageing fighter, said it is very difficult to afford her treatment cost in the private clinic, Medical Centre Hospital. Doctors said she need to undergo an operation which would cost around Tk 3.5 lakh.
Dr Azizur Rahman Siddique, civil surgeon of Chittagong, said when Alauddin communicated with him on that day, he immediately called the deputy director of CMCH to take necessary steps for her treatment.
"Alauddin did not contact me further, so I thought she was undergoing treatment in CMCH," he said.
Samirul Islam, associate professor of orthopedic surgery of CMCH, however, denied the allegation of negligence in treatment of Roma Chowdhury.
 "When we cannot provide seats to patients, we arrange beds for them on the floor."
"Had she waited till the morning, we could have provided her a bed or a cabin," said Samirul.
He also said, "Her right femur has a fracture…as she has already some other complications including diabetes, breathing problem and hypertension, her condition is unstable."
"A surgery is a better option for her recovery," he added.
Contacted, CMCH Director Brig Gen Jalal Uddin said he did not know about the matter.
"Maybe, I was in Dhaka at that time," he said, adding, "According to an order of the health ministry, a seat always remains preserved for freedom fighters but in CMCH, freedom fighters are being admitted almost every day."
"We cannot provide all with seats but we take equal care of all," he added.
STRUGGLE OF ROMA
Born in 1941, Roma obtained her MA in Bengali literature from Dhaka University in 1961.
When the Liberation War started, her husband asked her to take refuge in India. But she chose to stay in Bangladesh, and he left her for good. On May 13, 1971, the Pakistani army tortured her and torched her house at Popadia in Boalkhali upazila.   
Her five-year-old eldest son died of pneumonia on December 20, 1971, and three-year-old second son also died after two months. Out of grief and also out of the respect for freedom fighters, Roma started walking barefoot from 1972.
Though she briefly stopped walking barefoot for health condition, she resumed the practice on December 16, 1998 when her youngest son was killed in a road accident. She never wore any footwear afterwards.
Roma Chowdhury has written 18 books. Of those, "Ekattorer Janoni" depicts her struggle during the Liberation War.
Her other books include "1001 Din Japoner Padyo", "Vab-Boichitre Rabindranath", "Agun Ranga Agun Jhora" and "Ashru Veja Ekti Din".
Her publisher Alauddin said the Jatio Muktijoddha Council contacted Roma a few years back to enlist her name as freedom fighter and give her related allowance, but she declined the offer, saying she was self-sufficient from selling her books.
Roma now lives with her third son, Jahar Lal Chowdhury, in a two-room rented house in Cheragi Pahar area of Chittagong city.