On Survival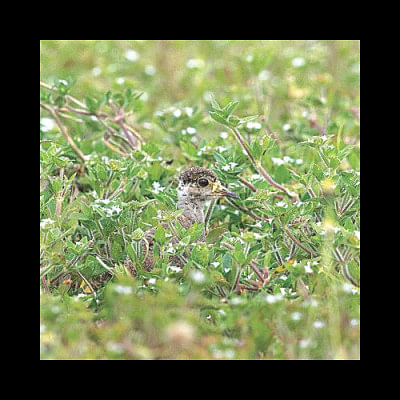 Survival is undoubtedly the strongest instinct of living beings. More than any other force, it is survival that keeps us going. Parents need no prodding to teach survival skills to their children. It is the struggle for survival that moves the world forward.
Earlier this year, I had the privilege of watching survival skills among birds in the wild. Starting last winter I had been observing and photographing a group of yellow-wattled lapwings. They lived and played in the fields of Purbachol, and one spring day I was thrilled to see four tiny chicks gingerly trailing a pair of adults. They watched and tried to mimic their parents who foraged and dug for food on the ground. Whenever danger appeared – a bird of prey overhead – the chicks immediately took shelter under the parents who simply sat on them, hiding them from the predator.
The chicks grew quickly. A few days later they were running fast and foraging their own food. The parents stayed close, but when danger appeared overhead, the chicks did not run to their parents. Instead, they squatted down among the grass and weeds which camouflaged them perfectly. I was watching a chick when it simply vanished in the grass as a kite appeared overhead. It was an astonishing trick and I saw it again only when it decided to move after danger had passed.
Some more days later, I saw an older chick abruptly break into a run and flap its wings. But it could not take off. A parent stood by patiently as it tried again.
Finally I saw the juvenile, like one of our teenagers, equipped with brand new feathers, taking off and flying with power and style. The parents were nearby, making loud alarm calls at any sign of danger. Very soon it would be on its own, living as an adult yellow-wattled lapwing, raising its own family. The chick had passed basic survival training.
So it is with us humans. This is why we work so hard to care for our children's health and to give them a good education – so they can survive in the world on their own. And propagate those survival skills to their children when the time comes.
If you have ever watched a father braving a rain-drenched morning in Badda taking his daughter to school huddled in a rickshaw, or a mother waiting anxiously outside a Puran Dhaka school as her son takes his yearly exams, or the myriads of other ways that parents work to enable and empower their children – you have watched this eternal struggle for survival.
It is well to remember that each one of us is also a descendent of survivors. We are here today because our parents, their parents, their grandparents – the entire line – survived long enough to reach adulthood, procreate, and teach their children to survive. So let us  recognise our ancestors for their talent and skill for survival and give them thanks for passing them on to us.
facebook.com/tangents.ikabir