'Stop campaign for Rampal power plant'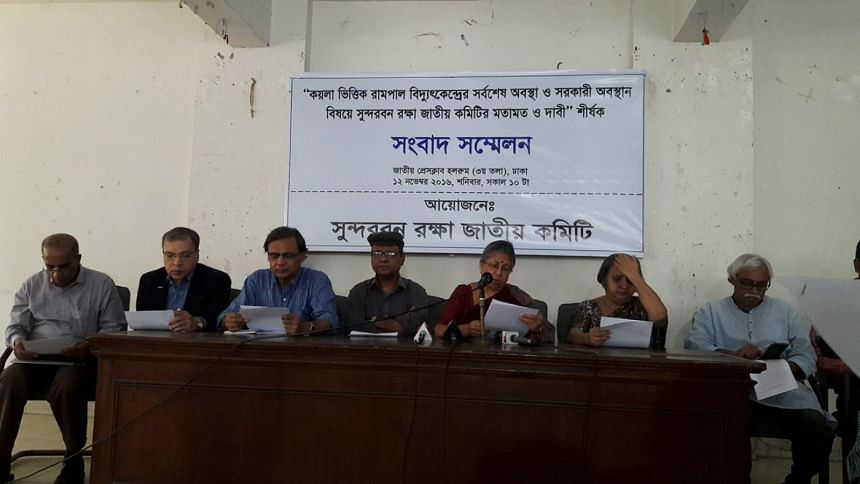 Reiterating its demand for cancelling the Rampal Power Plant project, the National Committee to Protect the Sundarbans today called upon the government to stop campaigns of the "controversial project".
"We ask the government to immediately stop telecasting the advertisements in favour of the power plant," said Sultana Kamal, convener of the body.
She made the demand while reading out the keynote paper at a press conference at Jatiya Press Club this morning.
Sultana Kamal, also a former adviser to the caretaker government, termed the advertisements that support the power plant as "ambiguous and deceptive" and "full of false information."
The body was formed in 2013 opposing the government move to set up two coal-based thermal power plants in Rampal.
In 2009, Bangladesh and India signed a deal to set up the two power plants in Shapmari and Katakhali, nine kilometres away from the Sundarbans.
A total of 1,834 acres of land has already been acquired for the power plants with a capacity of 1,320 megawatt of electricity.
Despite the government's assurance that the plant would not harm the Sundarbans, the Unesco remains firm against the plant and on October 20 requested again the government to cancel and relocate it to a more suitable place.
Otherwise, the UN's culture and science agency may place the forest on the list of "World Heritage in Danger" next year.
Meanwhile, Nasrul Hamid, state minister for power, energy and mineral resources said the construction work of the power plant at Rampal which is barely 14 kilometres off the forest has already started.