RU professor killing: Teachers, students continue protest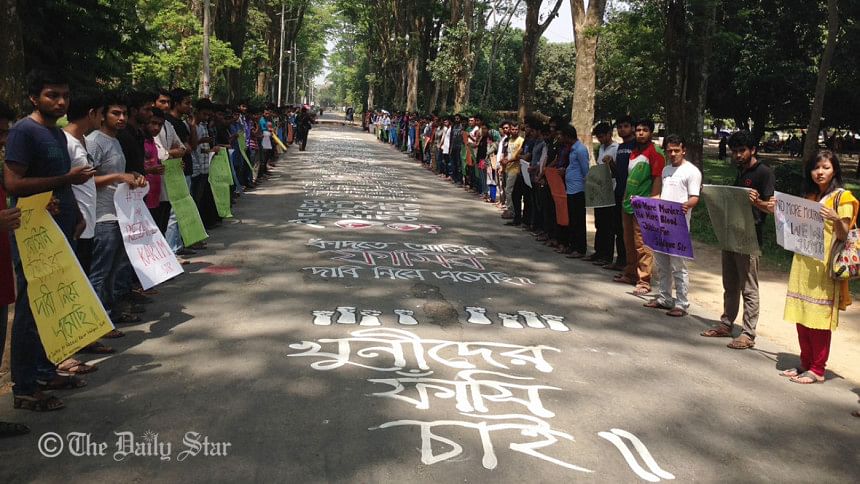 Teachers and students of Rajshahi University are continuing their protest, boycotting classes for the third consecutive day today demanding punishment to the killers of Prof AFM Rezaul Karim Siddiquee.
After a silent procession around 10:00am, they held a rally on the campus, reports our Rajshahi correspondent.
No classes and examinations were held following the agitation the teachers and students started soon after the murder on Saturday.
READ MORE: Victims' families, colleagues blame probe failure
Siddiquee, who was teacher of English department, was brutally murdered in Shalbagan area of Rajshahi city. Militant group Islamic State reportedly claimed responsibility for the attack.
Yesterday, hundreds of students and teachers of English department demonstrated in front the Senate building on the campus wearing black badges.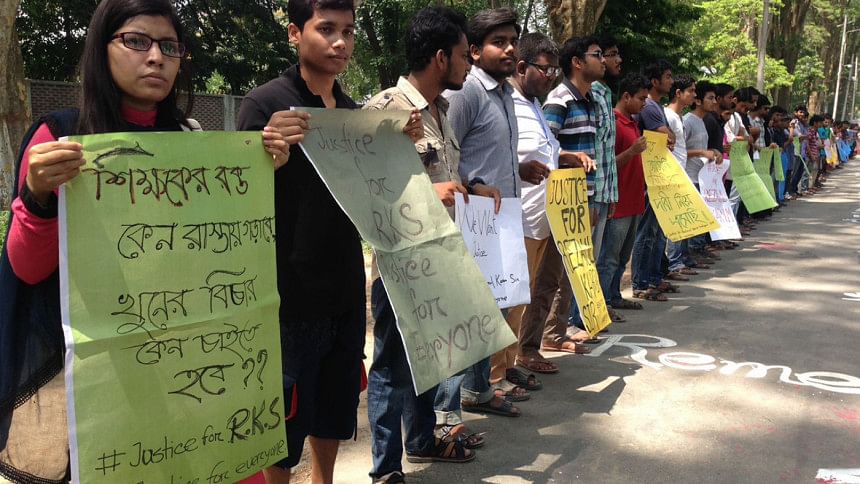 Later, they blocked Dhaka-Rajshahi highway in front of the main entrance to the campus, demanding a prompt and fair investigation into the killing.

ALSO READ: Enemy of none, lover of sitar

Meanwhile, Dhaka University (DU) teachers today underscored the need to form a speedy trial tribunal to ensure the trial of RU teacher Siddique killing case.

"It is not a matter whether Siddique was an atheist or non-atheist. A speedy trial tribunal will have to be formed to book the killers for trial," Farid Uddin Ahmed, president of DU Teachers Association (DUTA), told a human chain on the university campus this noon.

Condemning the killing, he said it is the government's responsibility to ensure people's overall security.

Maksud Kamal, general secretary of DUTA, said the RU teacher has been killed due to the failure of law enforcers. "A group of vested quarter has entered the police department," he said.

Protesting the killing, around a hundred of teachers formed the human chain in front of the Aparajeyo Bangla on the DU campus.