Rehman held on specific charges: Ministers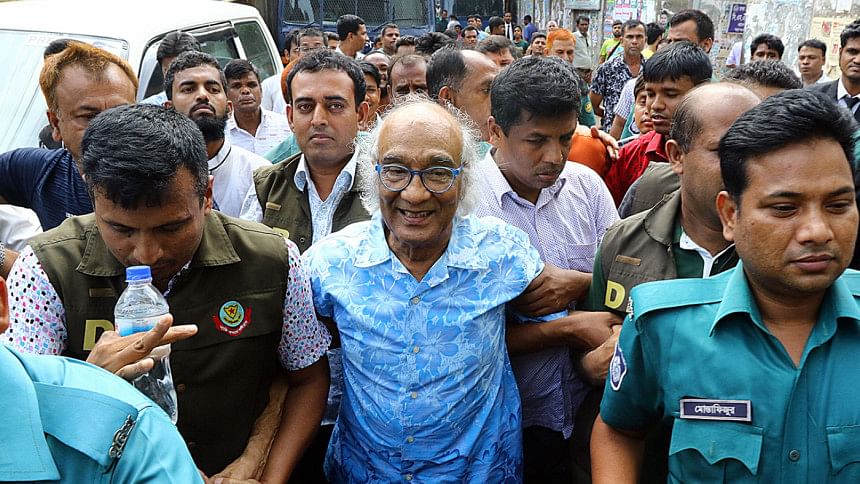 Senior journalist Shafik Rehman has been arrested on specific allegation, the ministers for law and information said today.
"The matter is now under investigation. If he is found innocent in the investigation, he will be released," Law Minister Anisul Huq said while talking to reporters at Judicial Administration Training Institute.
"And if the allegation against him (Shafik Rehman) is proved, trial proceedings will run against him."

Also READ: Fakhrul demands cancellation of Rehman's remand
He was attending a programme organised on the occasion on the inauguration of a special training course on district registrars.
Meanwhile, Information Minister Hasanul Haq Inu said Rehman, Shawkat Mahmud and Mahmudur Rahman – have been arrested based on specific allegations, not for being journalists, reports Bangla daily Prothom Alo.
READ MORE: Cops arrest journalist Shafik Rehman
The mass media is not under any pressure, the minister claimed while addressing a press briefing at the Press Information Department (PID) in the afternoon.  
Shafik Rehman, a pro-BNP intellectual, was arrested from his Eskaton residence yesterday and placed on a five-day remand in a case for alleged attempts to abduct and murder prime minister's son Sajeeb Wazed Joy.
The case was filed by Detective Branch of Police Inspector Fazlur Rahman with Paltan Police Station in August last year.
The case statement says some top leaders of the BNP and its allies met in the UK, the US and the Jasas office at the capital's Paltan and other parts of the country before September 2012 and conspired to abduct and kill the PM's son.