ATM scam: German, 3 City Bank officials remanded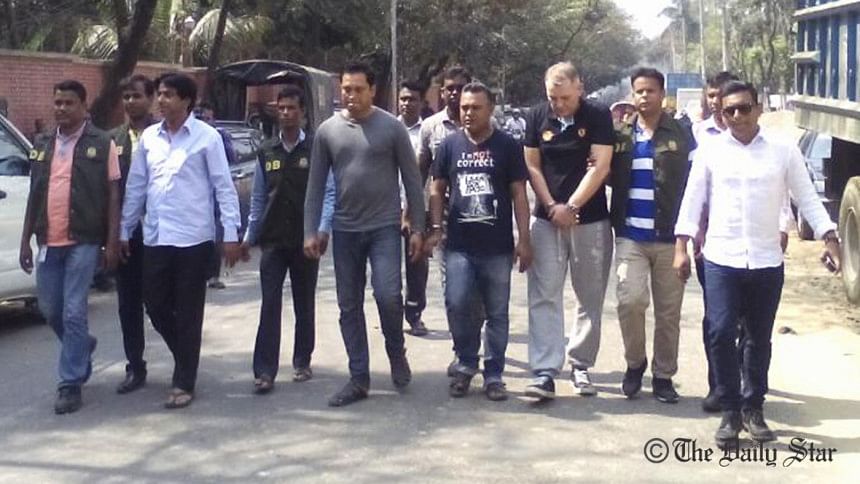 A Dhaka court today granted six days remand for each of four people, including a citizen of Germany, arrested over the ATM scam in Dhaka in which at least Tk 20 lakh was swindled out from various booths.
Metropolitan Magistrate Md Mazharul Islam passed the order after Detective Branch (DB) Sub-Inspector Sohrab Hossain, also the investigation officer of the case, produced them before it with a 10-remand prayer for each.
"They are directly involved with the incident," the IO said adding that they were arrested on a specific allegation so they need to be remanded to find out whereabouts of others involved with the incident.
Police arrested the four people including the German citizen Piotr Szczepan Mazurek, said Sheikh Nazmul Alam, detective branch (DB) deputy commissioner (north).
Read more: ATM frauds rattle banks, customers
A press release of the police identified three other Bangladeshis as Maksed alias Maksud, Rezaul Karim alias Shaheen, and Refaz Ahmed alias Rony – all employees of City Bank.
The German citizen entered Bangladesh using a false name, said the press release. "The three Bangladeshis are directly involved with the ATM fraud."
A Polish passport and a German national identity card was seized from the foreign national.
It was the first of its kind ATM scam. Fraudsters skimmed off ATM cards of the clients and withdrew the money from various booths of three banks.
Police said they had four foreigners under the scanner and they were sure that one of them was a fraudster involved directly. They were identified from the close circuit cameras in the booths.
The central bank was prompted to order EBL to reimburse all the affected clients. Also, it told all banks to install anti-skimming devices and take necessary steps to avoid such incident in the future.