Govt was cautious on dealing with Myanmar: PM
Prime Minister Sheikh Hasina today said the government was very much cautious to avert any kind of war with Bangladesh's neighbour despite repeated provocations from Myanmar.
"Our nearest neighbour, at one point, showed such an attitude that there'll be a war with us. I alerted our army, border guards and police so that they must not get confused with any provocation as long as I don't order them," she said.
The Prime Minister said this while speaking at a reception accorded to her by Awami League at the VVIP lounge of Hazrat Shahjalal International Airport.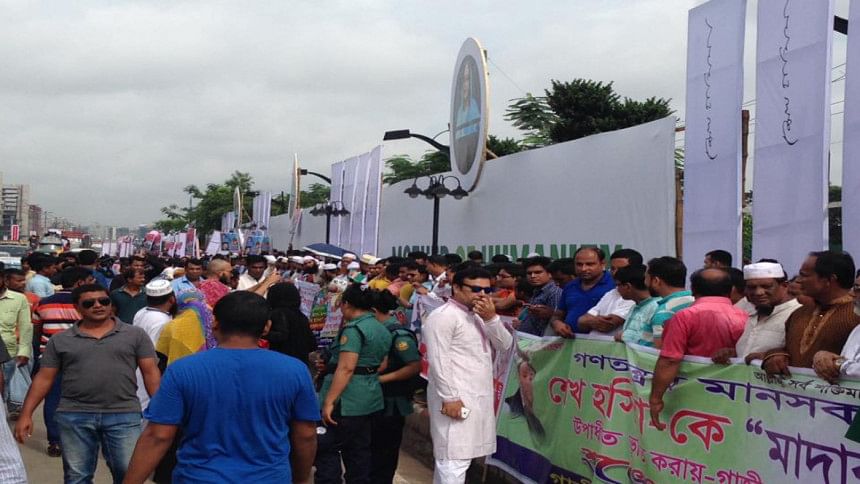 Sheikh Hasina returned home in the morning wrapping up her three-week visit to the United States and the United Kingdom.

A VVIP flight of Biman Bangladesh Airlines carrying the Prime Minister and her entourage landed at the Shahjalal Airport at 9:25am.

The Prime Minister said Myanmar wanted to create a situation that will divert the global attention to another direction. "We're very much alert about that."

Sheikh Hasina also mentioned that there are various quarters in the country to instigate or create a situation to divert the situation to another way.

She thanked the armed forces, BGB, police and local people to have their patience about the issue.

About Bangladesh's stance to give shelter to Rohingyas, Hasina said had Bangladesh not taken this stance then it would not have been possible to draw the attention of the international community like this way.

"Now everyone is sympathetic, everyone is extending their hands and everyone is coming forward to help the Rohingyas," she said.

The Prime Minister, however, thanked the Myanmar government for coming forward to start the discussion -- at least bowed down to the international pressure. "I think this is a special aspect, I think, there's an international pressure (on them)...we'll be able to solve the problem gradually through discussions."

Hasina also thanked the people of Bangladesh for giving their all-out support to the stance of the government for giving shelter to the Rohingya nationals.

Leaders, activists and supporters of the ruling party and its affiliate organisations, along with people from various quarters of life accorded to a warm reception to her.

Thousands of activists and supporters stood on both sides of roads wielding banners, festoons and placards from the airport to Ganobhaban to greet the Prime Minister.