Nusrat murder: Death reference reaches HC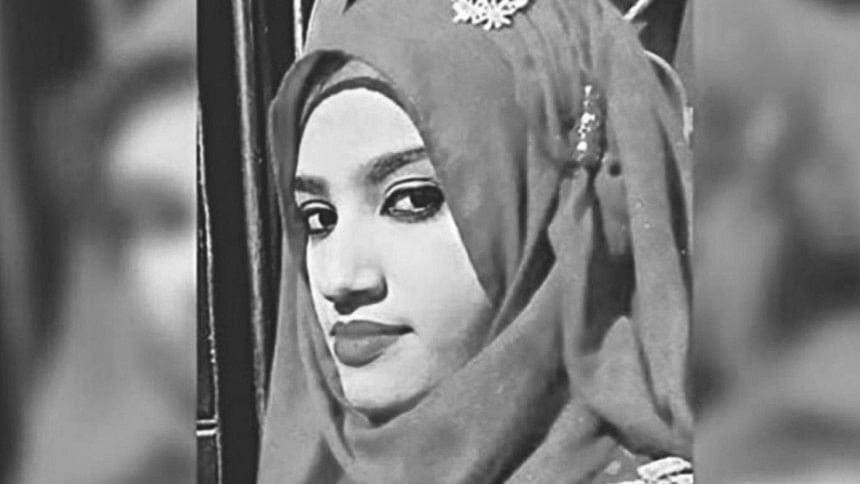 The documents in the sensational Nusrat Jahan Rafi murder case reached the High Court today as a death reference to examine the trial court verdict that sentenced 16 accused to death.
Officials of the Feni court brought the documents of the case, including the judgement, to the High Court, Md Saifur Rahman, special officer of the HC, told The Daily Star.
Officials concerned of the HC received the documents, he said, adding that the HC authorities will now prepare paper books for hearing the death reference.
If a lower court sentences any person to death in a case, its judgment is examined by the HC through hearing arguments for confirmation of the death sentence. The case documents and judgment reach as death reference to the HC from the lower court in seven days after the latter delivers the verdict.
A Feni court on October 24 handed down death sentence to all the 16 accused, including a sacked madrasa principal and two expelled local Awami League leaders, over the murder of madrasa student Nusrat Jahan Rafi in April, an incident that shocked the entire nation.
Mamunur Rashid, the judge of the Women and Children Repression Prevention Tribunal in Feni, also fined the convicts Tk 1 lakh each and ordered the district magistrate to give the money to the victim's parents.
The accused burnt Nusrat to death by pouring kerosene on her in a planned way and they deserved exemplary and harshest punishment, the judge said while delivering the judgment in a packed courtroom.
Sacked madrasa principal Siraj Ud Doula, the prime accused, was awarded capital punishment for giving the order to kill Nusrat while the others were given death penalty for plotting and committing the murder.
The convicts include Siraj, two teachers and 11 students of the madrasa, and two expelled AL leaders, who were members of the madrasa governing body.
The 19-year-old lost her battle for life on April 10, four days after she was set afire. She was sexually harassed by the then principal Siraj on March 27. Her mother filed a case against Siraj, who was later arrested and sent to jail.