NSU professor, Mirpur landlord remanded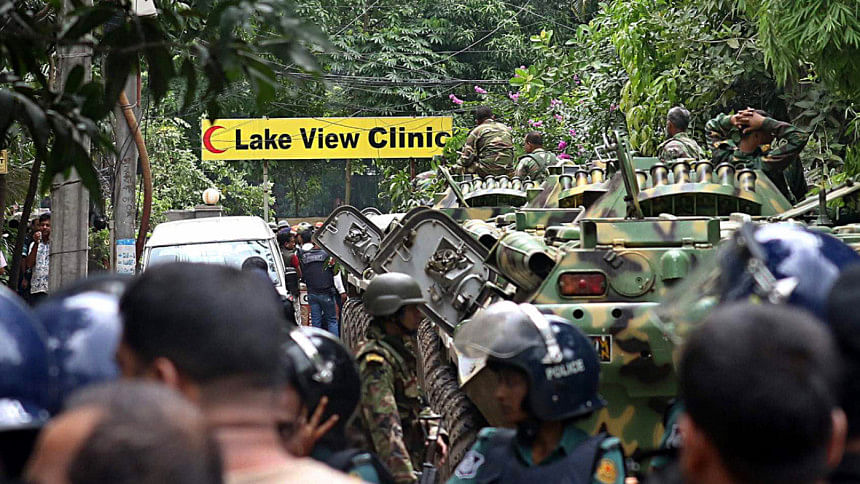 North South University Professor Gias Uddin Ahsan and the Mirpur landlord arrested today, arrested for "sheltering militants," have been placed on eight-day remand each.
They were shown arrested under Section 54 and produced by Humayun Kabir, an inspector of Bangladesh's specialised anti-terrorism unit, with 10-day remand prayer.
READ MORE: Mirpur landlord held for 'housing Dhaka attackers'
Dhaka Metropolitan Magistrate Mohammad Tosruzzaman placed four people, including Ahsan and Mirpur landlord Nurul Islam, on a eight-day remand each. 
Ahsan, the acting pro-vice chancellor of the privately-run university, his nephew and one other were arrested on charges of renting a flat to Gulshan café attackers and withholding tenants' information from the police.
READ MORE: NSU teacher, 2 others arrested
This morning, they were shown arrested, Saiful Islam additional deputy commissioner of the Counter Terrorism and Transnational Crime unit of Dhaka Metropolitan Police of DMP told The Daily Star.
Later today, police claimed to have busted another den of the Dhaka attackers in Mirpur's West Shewrapara and arrested the landlord for withholding teanants' information. Handmade bomb and black clothing similar to what Dhaka attackers wore were seized from one of his flats.
On the first night of July, gunmen killed 20 hostages, mostly foreigners, during a 12-hour siege on a restaurant in Dhaka's diplomatic zone. Islamic State reportedly claimed responsibility of the killing.
After two weeks of the attack, police came to know that the North South University professor rented out one of his flats to the Dhaka attackers.
One of the Dhaka attackers, Nibras Alam, was a student of North South University.
Professor Ahsan is the dean of the private university's School of Health and Life Sciences. He said to have withheld tenants' information from the police.