Nightlong clash at Kamrangirchar leaves ASI hurt
Throws locals into panic, police van vandalised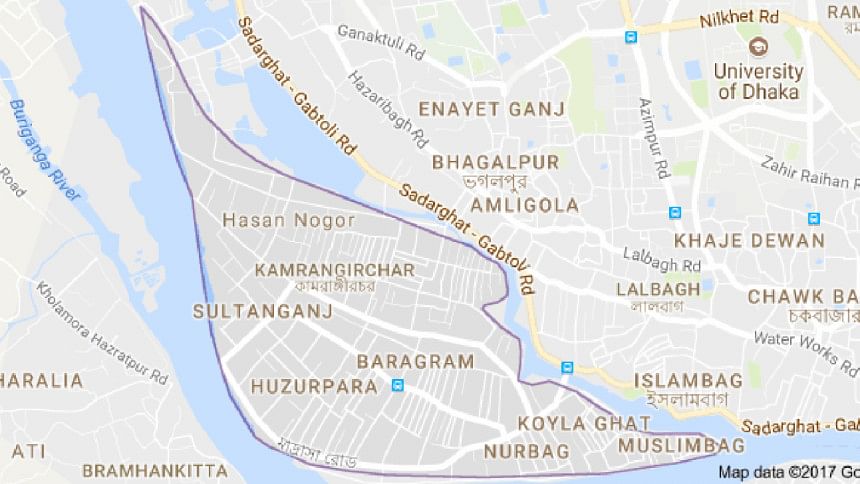 Kamrangirchar at the edge of Dhaka city was thrown into chaos and panic last night over a tripartite clash between police and two groups of Bangladesh Chhatra League.
A clash which police believes was rooted in establishing supremacy and taking control of the local drug cartel started from 6:00pm last night and went on for nine hours.
A police officer sustained head injuries, a van of the law forcers was vandalised and the power lines to the area were cut off during the fighting, witnesses and police say.
Kamrangairchar Police Station Officer-in-Charge Shahin Fakir told The Daily Star the clash ensued between two groups of the ruling party's student front – one of Saidur Rahman Ratan and Mursalin.
"For long now, the two groups have been at loggerheads over establishing supremacy and taking control of drug dealings in the area," the OC said.
A witness, seeking anonymity, said it all began after some men of Ratan's group vandalised a business establishment of the other group around 6:30pm.
The two groups pelted brick chips at each other and blasted several handmade bombs, he said.
Police tried to bring the situation under control with tear gas canisters, OC Fakir said. The two groups then retaliated at police armed with local weapons and locked in a clash that lasted until 3:00am in the morning.
Assistant Sub-Inspector Nur Hossain, 26, sustained head injuries in the clash and was rushed to Rajarbagh Police Lines Hospital, the OC said.
Several residents of the area said, the hoodlums vandalised street lights and cut off electric lines creating a complete blackout in the areas, which created a serious panic among the locals.
Nobody was arrested in this connection. 
Police filed an assault case against Ratan, Mursalin and unnamed others this evening, the OC told The Daily Star.
Terming the allegations against them "false and motivated", both of them told The Daily Star they have had no rivalry between them and pointed fingers at the local councilor Md Hossain for influencing police to file a "fabricated case."
Contacted, Md Hossain, the councilor of ward no 56, told The Daily Star said, "Ratan, Mursalin and others orchestrated the clash to deteriorate law and order in the area."