What if social distancing is not an option?
Lack of space, income push Geneva Camp residents to uncertainty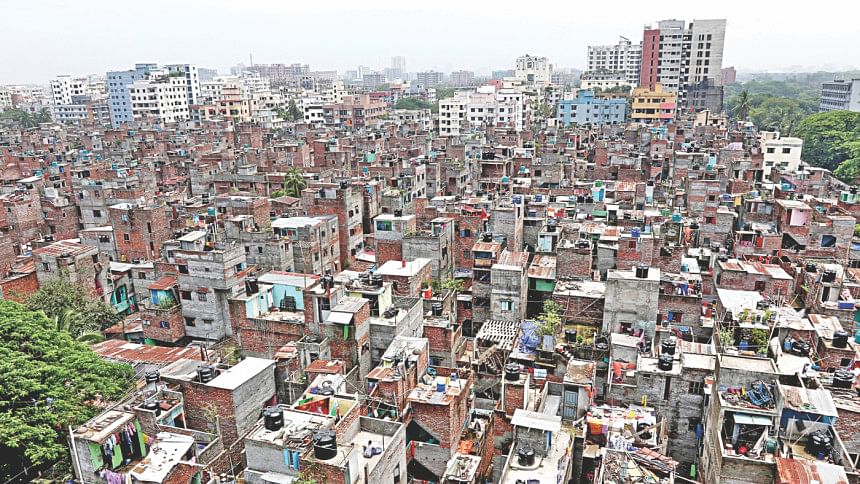 It's a melting pot of activities. Children are playing on the alleys, groups of youths are playing dice, adults gossiping on the street, and opened shops are crowded by both buyers and onlookers.
The whole of Mohammadpur's Geneva Camp, a densely-populated settlement of more than 40,000 Urdu-speaking people, holds the same scenario. The narrow alleys inside the camp, where darkness prevails even in daytime, are always bustling with crowds.
This is somewhat unusual at a time when the government has declared a countrywide shutdown, forcing everyone to stay home in a bid to contain the novel coronavirus outbreak.
However, the intermingling of the camp residents exposes them to the risk of contracting the virus, which can be especially potent for the densely populated camp where healthcare isn't always available.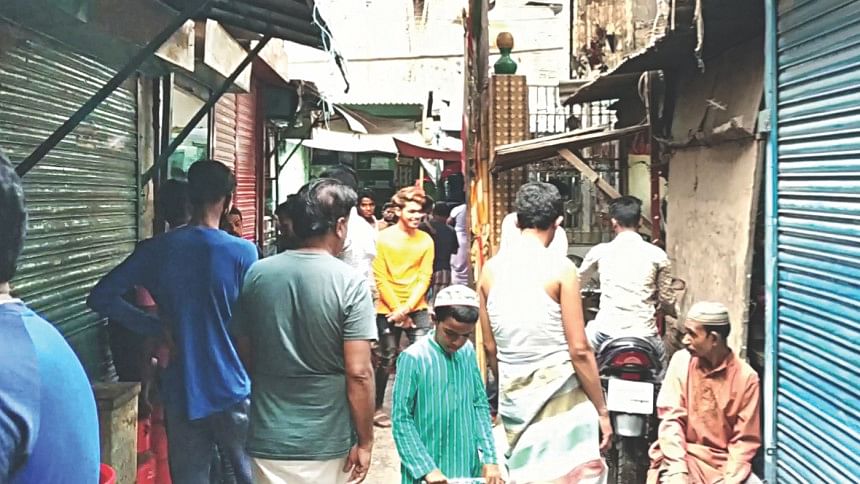 "This is the usual scenario here. We have no option. When electricity goes off, people can't stay inside (due to the heat). You would have seen more crowd at night," said Parvez, who was sitting at a local shop while gossiping with eight others.
"If anyone of us catches the virus, the whole camp will be affected," said Tipu Sultan, a resident.
This fear has gripped around 7,500 families living in the camp on 12.60 bighas of land.
Also known as Bihari Camp, the conditions in the densely populated camp are dire. Houses are separated by two-foot wide passageways -- shared by residents, goats and chickens -- and around 100 people share a single latrine.
Each family with eight to 10 members on average live in eight feet by 10 feet single rooms. The rooms have no windows. Residents elevate their beds to make space for possessions underneath, because there's nowhere else to put them.
Under such poor living conditions, terms like physical distancing, social distancing and personal hygiene appear quite far fetched.
"How will we maintain a 'lockdown' here? You see…" questions one Parul, pointing to her tiny room that she shares with seven other family members. Beside people, the room hosts everything from utensils, fridge, to a TV. Care work like cooking, eating and washing dishes? It's all done in this room.
A few water drums have been installed at different points in the camp for hand washing during the crisis, but the numbers are not adequate.
Washi Alam Bashir, president of Mohajir Rehabilitation and Development Movement (MRDB), a voluntary organisation working in the camp, said no masks, soap or hand sanitisers have been given to camp residents yet, neither by the government nor any private initiative.
"Local councilors provided 10 drums and two sacks of bleaching powder for hand washing on March 25," he said. The numbers are inadequate, but also, most people do not even use it due to lack of awareness, he added.
"Few days back, five camp residents returned from India. We told them to stay at home. They abided by the orders," Bashir said.
He said the local councilor and their organisation gave a few food pack for the needy on Wednesday, but it is far less than necessary.
He also said they have set up bamboos at entry points to restrict movement.
Additionally, several locals said there were no health awareness campaigns at the camp while the authorities are hardly taking any measures to disinfect it.
Jamshed Khan, a meat shop owner said they watched the guidelines on television.
"But in the camp, where can we find a place to maintain this distance?" he questioned.
Not only hygiene, residents said most people living in the camp are now jobless and they have no income now. Popular restaurants for kebab and biriyani are closed. People who earned their livelihood as barbers, butchers, restaurant staffs, rickshaw pullers, transport workers and automobile mechanics are hit hard by loss of income during the ongoing countrywide shutdown that started from March 26.
Most the families are facing serious economic hardship as the general holiday was extended till April 11.
Locals claimed the authorities are yet to come up with enough food or any financial assistance for them.
Seeing this correspondent, many camp dwellers surrounded him and told their tales of sufferings and worries about the coming days, fearing starvation.
One Faruque said he worked at a salon in Dhanmondi and maintained his eight-member family. But all saloons are closed now.
"How will I give my family food now?" Faruque wore an expression of sadness.
Camp dwellers said they might soon experience a situation of grave crisis if immediate help from the government and non-government organisations do not arrive.