Vote, no matter what: BNP
Exercise your franchise! Come to the polling centres overcoming all obstacles and vote!
The above reverberated through BNP's campaign yesterday.
The party also said their leaders and activists will remain present on the voting day, defying all odds to encourage voters to practice their democratic rights on January 30.
"We as a responsible party will encourage voters to cast their votes on the election day. We will be present [at the polling centres] and no matter what, we will stand our ground strongly," said BNP mayoral candidate Tabith Awal for Dhaka North City Corporation yesterday.
Tabith, on the ninth day of the campaign, was electioneering in the Khilgaon area.
"Voters are afraid. They want their voting rights to be protected. They want to vote for their chosen candidate through a democratic process. We urge the Election Commission to ensure safety for all voters on the day," Tabith said.
He promised that if elected, he will ensure accountability of the mayor and councillors and make the city corporation a corruption-free institution.
He also expressed concern regarding the use of electronic voting machines (EVM) and "capture" of polling centres by the incumbent party.
With elections to the two city corporations less than two weeks away, Awami League mayor and councillor candidates are campaigning in full swing, while BNP aspirants are alleging that their supporters are being pressurised and intimidated by ruling party activists.
Tabith Awal complained that polls code was being violated incessantly but the Election Commission was not doing anything about it, even after complaints were lodged.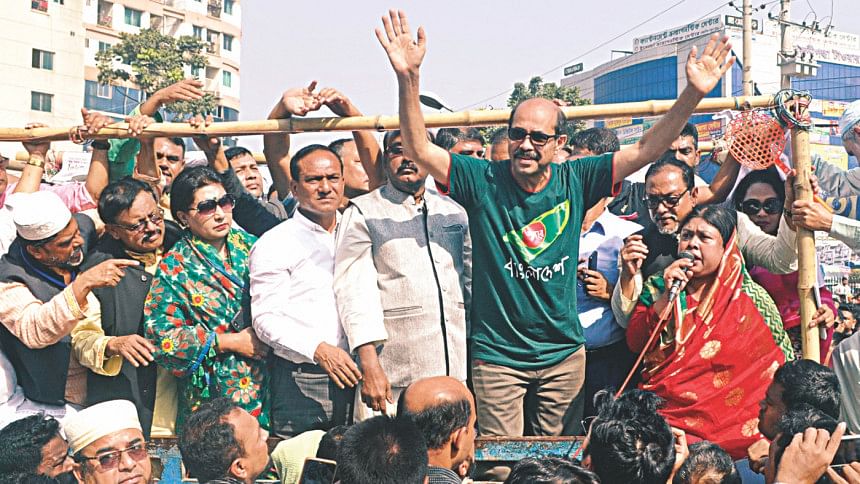 Meanwhile, AL mayor candidate Atiqul Islam campaigned in Kochukhet, Kazipara and Shewrapara areas yesterday.
While campaigning in Kochukhet Bazar, he said if elected again, he will launch an app named "Sobar Dhaka" through which anyone can inform about their problems and DNCC will take immediate steps to solve those.
Besides, he also promised to set up a passenger shed in the Kochukhet area within three months of being elected mayor.
He hoped that he will be elected mayor again as people are with him. "I am hopeful to win as I am getting huge response from people," he added.
Meanwhile Atiqul's wife Dr Shaila Shagufta Islam campaigned for her husband in Mohakhali's Karail slum area along with media personalities Shomi Kaiser and Tanvin Sweety.
"We are getting huge response from people. All are supporting 'boat' [Awami league's electoral symbol]," said Dr Shaila Shagufta.